After handing over the dazzling report card of 100 orders in the first half of the year, Yangtze River Shipbuilding Group has made persistent efforts and won an order for 12 new ships of 7 billion yuan in the first month of the second half of the year. In order to increase production capacity, Yangzijiang Shipbuilding Group has restarted Yangzi Changbo Shipbuilding, which has been discontinued for many years, and is fully committed to building container ships.
Obtained 12+5 ship orders, breaking the monopoly of Korean shipping company LNG dual-fuel ship market
On July 30, Yangzijiang Shipbuilding Group issued an announcement stating that the company signed an order for 12+5 new ships worth US$1.08 billion (approximately RMB 7 billion) in July, including 10 dual-fuel 7000TEU container ships and 2 50000 TEU container ships. DWT MR product oil tanker, in addition to five dual-fuel 7000TEU container ships, is expected to take effect in August.
Among them, a total of 15 dual-fuel 7000TEU container ships were ordered by Seaspan Corporation, the world's largest independent container ship owner, an "old customer" of Yangzijiang Shipbuilding Group, and they are scheduled to be delivered from October 2023 to 2024. For this series of ships, Yangzijiang Shipbuilding has obtained the trust of the shipowners through early research and development and agreed to use Type B tanks as LNG fuel tanks. The gas supply system (FGSS) and tank body design are completed by Yangzijiang Shipbuilding. This is an important achievement for Yangzijiang Shipbuilding Industry, which clearly shows the shipowner's recognition of Yangzijiang Shipbuilding Industry's ability and technology to jointly design LNG storage tanks.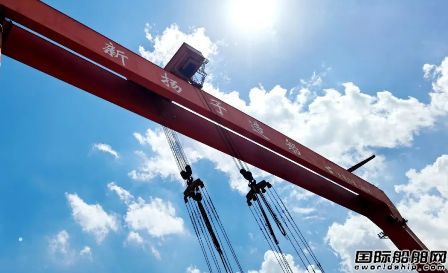 It is understood that Seaspan has disclosed in early July that it has signed a contract for the construction of 10 dual-fuel 7000TEU container ships with a major shipyard. The total contract price is approximately US$1.05 billion, which is equivalent to a price of US$105 million per ship. Based on this calculation, the total value of the order for another five dual-fuel container ships to be effective next month by Yangzijiang Shipbuilding is approximately US$525 million.
According to the International Shipping Network, the 10 new ships of Seaspan have been awarded a long-term charter by Star Shipping (ZIM) with a 12-year charter period and a total contract value of approximately US$1.8 billion. This is after South Korea's Samsung Heavy Industries' 10 15000TEU dual-fuel container ships in February this year, Seaspan and Star Shipping once again joined forces to order LNG-powered container ships.
It is worth mentioning that Seaspan did not choose Samsung Heavy Industries, which it had previously cooperated with, to build a dual-fuel container ship this time. Instead, it turned to Yangzijiang Shipbuilding. Yangtze River Shipping pointed out that winning these orders means that the previous monopoly of the LNG dual-fuel ship market dominated by Korean shipping companies has ended. This has enabled the group to further strengthen its leadership in the LNG market and lay a foundation for continued growth and expansion in the future. solid foundation.
Ren Letian, Chairman and CEO of Yangzijiang Shipbuilding Group, said: "The gas supply system and tanks of this batch of LNG dual-fuel container ships were designed by Yangzijiang Shipbuilding. Accepting this order is a milestone for the group. This is a major milestone for the group. Achievements make Yangtze River Shipbuilding one of the world's shipyards capable of building dual-fuel ships, and this can only be achieved through our continuous research and development efforts."
"These engines and ships meet or exceed the requirements of existing regulations, including the third phase of the Ship Energy Efficiency Design Index (EEDI). As the shipping industry develops towards sustainability and carbon neutrality, we believe that more shipowners will We will choose to build this type of ship, and we are confident that we can get more orders for dual-fuel ships."
In the first half of this year, the number of orders received by the Yangtze River Shipbuilding Industry has reached a record high, with a total of US$5.59 billion for 100 ships. In addition to the latest 12 orders, the number of orders received by Yangzijiang Shipbuilding Industry in the first seven months reached 112 ships with a total value of 6.67 billion US dollars (approximately RMB 43.1 billion), continuing to set record orders.
Ren Letian said, "Under the continued good market sentiment, Yangtze River Shipbuilding is confident of receiving more orders."
Restart Yangzi Changbo Shipbuilding, with an annual output of 6-7 feeder ships
Facing the current situation of explosive orders and tight ship positions, Yangzijiang Shipbuilding Group decided to restart the operation of Jiangsu Yangzi Changbo Shipbuilding Co., Ltd. to further release production capacity and mainly build feeder container ships.
In the past few years, due to a small number of orders, Yangtze Changbo Shipbuilding stopped construction in 2012. In order to improve operating efficiency, Yangzijiang Shipbuilding Group has integrated the construction business of Yangzi Changbo Shipbuilding with its other three major shipyards. Since January 2020, due to industrial adjustments, Yangzi Changbo Shipbuilding has ceased production and operation activities.
This year, with the gradual entry into force of a batch of new orders, Yangzijiang Shipbuilding Group clearly stated in the "Ten Goals" in 2021 that it will release the main shipbuilding capacity and restore the shipbuilding function of the Yangtze Changbo factory.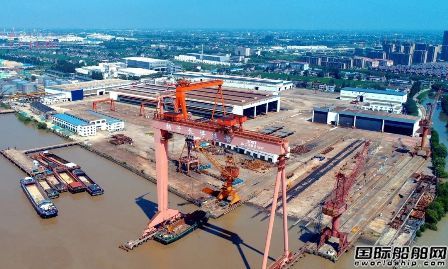 On July 30, with the start of mass production of the 1800TEU container ship, the resumption of production of Yangzi Changbo Shipbuilding was officially implemented. Mr. Song Aimin, Manager of Central China Region of American Bureau of Shipping, Mr. Feng Xianghong, Manager of Ruiyang Shipping Field Office, Mr. Du Chengzhong, Deputy General Manager of Yangzijiang Shipbuilding Group, Mr. Yang Xueyan, Deputy General Manager of Yangtze Xinfu Shipbuilding, and Mr. Geng Hongwei, General Manager of Yangtze Changbo Factory Other leaders and related staff witnessed the resumption of production of Yangtze Changbo and the smooth start of construction of the 1800TEU container ship.
After the restart of Yangtze Changbo Shipbuilding, it is expected to deliver 6-7 feeder container ships annually. It plans to achieve sales of about 1.6 billion yuan in three years, with a total profit and tax of over 100 million yuan, and solve 1,600 jobs.
The smooth restart of Yangtze Changbo's shipbuilding indicates that the main shipbuilding industry of Yangtze River Shipbuilding Group has added a new force. As a new force in the group's shipbuilding industry, it will take this as a new starting point to strengthen the sense of responsibility and mission with a new attitude, and firmly establish a sense of worry , Carry forward the spirit of the ship, organize the construction of each ship with high quality and efficiency, and take the satisfaction of the ship owner as the highest pursuit goal.
Clarkson's data shows that from 2008 to 2013, Yangtze Changbo Shipbuilding delivered a total of 28 ships totaling 318,850 dwt, including 3 bulk carriers, 1 passenger ship, 1 product oil tanker and as many as 23 ships. Purpose ship. According to the International Shipping Network, the largest ship ever built by Yangzi Changbo Shipbuilding is the two 46974-dwt bulk carriers delivered in 2013.
Yangzijiang Shipbuilding Group has taken container ships as a key ship type market. Since the beginning of this year, more than half of the new ship orders undertaken by Yangzijiang Shipbuilding Group have been container ships, with a total of 74 ships. Including the two world's largest 24,000TEU ultra-large container ships ordered by Seaspan and China Bank Leasing. This is the largest container ship type in the history of Yangzijiang Shipbuilding Industry's construction history, and Yangzijiang Shipbuilding Industry has become the first in China. A civil shipbuilding company that builds 24,000TEU ultra-large container ships.
Previously, Yangzijiang Shipbuilding Group mentioned in its 2020 financial report and related documents that the group has a good track record in building container ships, which puts it in a favorable position to seize current market opportunities. As shipyards gradually fill up the delivery schedule with orders, the group can be more selective in terms of customers and ship types. Considering the high gross profit margin of bulk orders for container ships, the management of Yangzijiang Shipbuilding Group has made a strategic decision to give priority to such orders, which is expected to help the group maintain its profit margin.