After a weak 2020, the floating production, storage and offloading (FPSO) market is rapidly recovering, and the number of new FPSO orders is expected to reach 20 this year and next. This is undoubtedly good news for the Chinese shipping companies that have the most FPSO orders and have a cost advantage in construction.
Rystad Energy, a Norwegian energy consulting company, stated in the latest report that in the second quarter of this year, the number of FPSO orders totaled 4 ships, which has exceeded the level of only 3 ships in 2020. By the end of the year, it is estimated that 4 more FPSO orders will be added. In addition to the 2 orders in the first quarter, the total number of FPSO orders for the whole year is expected to reach 10, which is more than three times that of 2020.
At the end of last year, Rystad Energy predicted that offshore oil and gas investment will rebound from 2021. Most of the future oil and gas activities will be deepwater projects, of which FPSO development projects will account for nearly 40% of the contracts awarded from 2021 to 2025.
Rystad Energy pointed out that this shows that despite the outbreak, FPSO order activities have begun to make a comeback. Four new FPSO orders are expected to be finalized before the end of this year, including the Mero 4 and Parque das Baleias projects in Brazil, the Limbayong project in Malaysia, and the Liuhua 11-1 project in China. In addition, it is expected that there will be 10 new orders for FPSO in 2022.
Rystad Energy energy services research analyst Aleksander Erstad said that there are more than 20 FPSOs currently under construction, and one of them may be put into production this year. The new orders in this year and next will double the number of FPSO's hand-held orders, ensuring that manufacturers maintain their workload saturation in the next few years.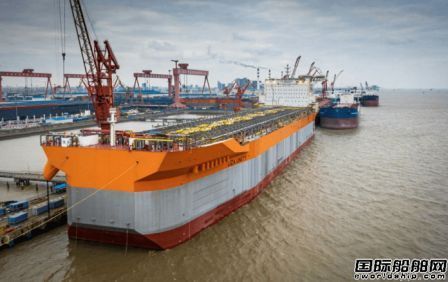 Currently, Petrobras is evaluating FPSO bids for the Mero 4 and Parque das Baleias projects. Rystad Energy stated that for the larger Mero 4 project FPSO, Dutch contractor SBM Offshore was the only bidder; while Malaysia Yinson was the only bidder for the smaller FPSO Parque das Baleias project.
Petronas is evaluating Limbayong FPSO's bid, and the contract is expected to be signed before the end of this year. Contractors participating in the bid include Yinson, MISC, Sabah International Petroleum, and the alliance formed by Bumi Armada, MTC and Shapoorji Pallonji.
In addition, CNOOC is considering building a cylindrical FPSO for the redevelopment of Liuhua 11-1 and Liuhua 1-4 oil fields. Rystad Energy revealed that this FPSO will be built at a Chinese domestic shipyard, which may involve CNOOC Engineering, COSCO Shipping Heavy Industries and CIMC Raffles.
Rystad Energy said that there may be another 10 FPSO projects in 2022, and the number of new orders throughout the year is expected to be the same as in 2021. Most FPSO orders come from Latin America, including 4 in Brazil and 1 in Guyana; Angola and the United Kingdom may each order 2 ships, and Australia order 1 ship.
It is reported that Asia is the dominant player in the FPSO construction and modification market. Relying on the low unit prices brought about by cheap labor and material prices, coupled with large-scale shipyard production capacity, Asian shipyards have been able to attract customers from all over the world. In Asia, the shipyards responsible for FPSO hull construction are mainly located in China, Singapore, South Korea and Japan.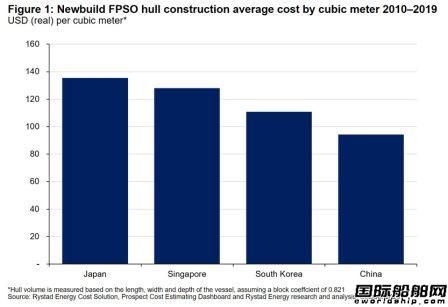 In recent years, Chinese shipping companies have risen rapidly in the FPSO market. Chinese shipping companies including COSCO Shipping Heavy Industry, Waigaoqiao Shipbuilding, Large Shipbuilding Group, China Merchants Industry, and CNOOC Engineering are expanding the EPCI general contracting capabilities of FPSO projects. It is reported that 17 of the 20 FPSO orders currently under construction are partly or completely built by Chinese shipyards. Singapore secured the second place, at least partially involved in two projects. There is only one FPSO contract in progress for South Korean shipyards. Six of the 20 FPSOs are in the final stages of completion and are scheduled to be delivered within the next 12 months. Seven ships are scheduled to be completed in 2022. The other 7 are under construction and are scheduled to be delivered between 2023 and 2024.
Rystad Energy said that as funds will remain tight after the market downturn last year, oil and gas producers will look for the most cost-effective shipyards to build new facilities. The cost of construction depends on the specific conditions of each country, such as wages, productivity, and raw material costs. Rystad Energy compared the hull construction costs of major Asian shipyards and found that Chinese shipyards are the most competitive in terms of cost, with prices 30% lower than Japanese shipyards. But in terms of productivity, Chinese shipyards are far inferior to Singapore, Japan and South Korea, and are the lowest among the four Asian countries, and they still have no advantage.
It is understood that FPSO construction costs range from US$200 million to US$3 billion, depending on the shipyard's capacity, design life, local content requirements, operating environment and other factors.