Recently, CIMC Raffles and the Swedish shipping giant Wallenius Lines signed a contract for the construction of a 2+2+2 next-generation 6500 dual-fuel vehicle carrier in the form of a "cloud contract". Wang Jianzhong, CEO and President of CIMC Raffles, and Kleberg Jonas, Chairman and CEO of Soya Group and Wallenius Lines, respectively signed the contract on behalf of the two companies. The management teams and project teams of both companies witnessed the agreement. This is another cooperation between the two companies on the basis of the previous good cooperation, and it will further enhance CIMC Raffles' competitiveness in the international ro-ro shipping field. The above-mentioned projects will be constructed in the Longkou plant of CIMC Raffles, which has the first intelligent production line of ro-ro ships and special ships based on laser hybrid welding equipment in China.
The conceptual design of this series of transport ships comes from the industry's well-known Danish design company Knud E. Hansen, leading the market in terms of emissions, ship design and ship systems. CIMC Raffles will carry out turnkey construction and fly the Swedish flag. The ship has a length of 200 meters, a width of 37 meters, a loading capacity of 6,500 vehicles, and a service speed of 19 knots. In order to meet the requirements of cleanliness and environmental protection, it is equipped with a C-type LNG storage tank and related gas supply system.
Wallenius Lines pioneered the roll-on-roll concept in the 1960s, and has become an investor and active shipowner in the global shipping industry, especially in the field of international automobiles and roll-on ships. Wallenius has become an industry trademark. Two years ago, CIMC Raffles and Wallenius SOL AB, a joint venture of Wallenius Lines, signed a general contract for the construction of a series of two dual-fuel ice-class ro-ro ships in Stockholm. During the construction of the project, the CIMC Raffles project team overcame challenges such as the international epidemic, worked closely with the Wallenius project team, and was fully recognized by Wallenius with its lean project management level and advanced design and construction capabilities. The mutual trust between the two parties continued to deepen. It has laid a solid foundation for subsequent in-depth cooperation.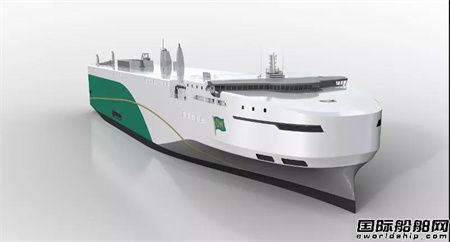 Kleberg Jonas pointed out in his speech: "Today is a big day for Wallenius. We have selected a partner for the next generation of low-emission vehicle carriers. Wallenius has always been committed to cooperating with excellent and long-term partners. I believe that CIMC Raffles is ours. The best choice. We are also committed to the development of new and innovative automobile transportation concepts and the promotion of logistics solutions, and continue to lead the industry and the market with our partners."
Wang Jianzhong said that global emission reduction and low-carbon trends put forward new requirements for clean energy. Our partner Wallenius is very forward-looking, seizing the strategic opportunity of LNG fuel power in a timely manner, and pioneering and innovating in the field of green shipping. The strategic vision and sense of social responsibility are admirable. CIMC Raffles is also a firm green practitioner, committed to the design and construction of various types of advanced clean energy equipment. Ro-ro ship is one of our important business areas. We have invested and built an internationally advanced laser hybrid welding production line in Longkou, and successfully applied it in the previous ro-ro ship project. It is expected that CIMC Raffles will become Wallenius' long-term cooperation base in China, and jointly contribute to the world's low-emission and green shipping.