"The new ships for the next two years are almost rented out, and the ships are still not enough, and they have to be built."
Two additional 12,000TEU container ships have been ordered in Chinese shipyards, and 17 ships totaling USD 700 million have been secured in advance with COSCO SHIPPING Lines. The number of orders on hand reaches 39 ships. Seaspan, the world's largest independent container ship owner, is facing "happiness troubles".
39 ships in hand! Order 2 more 12000TEU container ships
On June 23, Seaspan announced that it has signed a contract with a major shipyard for the construction of two modern container ships of 12,000 TEU. The new ships are expected to be delivered in the fourth quarter of 2022 and will begin to perform a long-term lease with a global shipping company. Ship contract. The charter party includes the option to purchase the ship at the expiration of the initial charter period and any renewal of the charter period thereafter.
Seaspan President and CEO Chen Bing said: "We are very pleased to continue to promote customer growth by providing the most efficient newbuilding delivered in the fourth quarter of 2022. This once again proves that our customers can always rely on our experienced team and integration Platform to provide solutions."
Seaspan did not disclose the specific information of the relevant shipyard, but industry insiders speculate that the two new ships will continue to be built by Seaspan's "old friend" Yangzijiang Shipbuilding Group. Yangzijiang Shipbuilding Group announced on June 23 that it had obtained orders for 14 new ships in the past two months, including two 11,800TEU container ships.
According to International Shipping Network, as a long-term partner of Seaspan, Yangzijiang Shipbuilding Group also obtained 5 12200TEU container ships from Seapsan in December last year. In February, it ordered two 24000TEU container ships from Yangzijiang Shipbuilding, making the first 20,000 TEU container ship. In the market of ultra-large ships above containers; 4 11800TEU and 10 15000TEU container ships were ordered in Yangzijiang Shipbuilding Industry in March.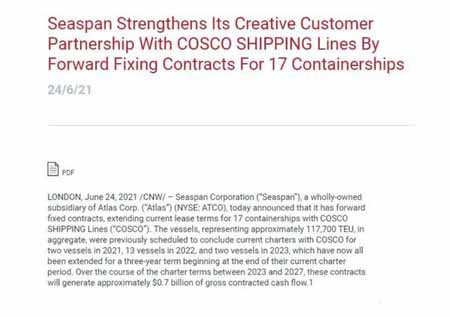 Seaspan has returned to the newbuilding market since the end of last year. Including the latest orders, the company has ordered as many as 39 new ships and is currently one of the container ship owners with the largest number of orders on the market.
According to the International Shipping Network, most of the orders for Seaspan's 39 container ships were received by Chinese shipping companies, including five 12,200 TEU container ships undertaken by Yangzijiang Shipbuilding Group in December last year, and two 24,000 TEU container ships in February this year. , And 4 12000TEU and 10 15000TEU container ships in March; and the 6 15500TEU container ships jointly undertaken by Hudong Zhonghua and Jiangnan Shipbuilding at the end of March. In addition, Seaspan ordered 10 LNG-powered 15000TEU container ships at Samsung Heavy Industries in South Korea in February this year.
700 million dollars! COSCO SHIPPING Lines renews the lease of 17 container ships ahead of schedule
On the second day after announcing the addition of two 12,000TEU container ships, Seaspan announced that it had signed an advance lease contract for 17 container ships with COSCO Shipping Lines. The total value of the lease was as high as 700 million U.S. dollars.
According to the announcement issued by Seaspan on June 24, the total capacity of these 17 ships is approximately 117,700 TEU, of which 2 will expire in 2021, 13 will expire in 2022, and 2 will expire in 2023. According to the latest contract, after the current charter period is over, the 17 ships will be extended for another 3 years. The renewal contract will expire between 2023 and 2027. During the renewal period, these contracts will generate about 700 million US dollars of contracts. Total cash flow.
Chen Bing, President and CEO of Seaspan, said: "The signing of the renewal contract for these 17 ships in advance is another milestone in the two parties' commitment to establishing a long-term partnership throughout the market cycle. The direct result of the early renewal is that in 2022 and The number of re-delivery of our ships in 2023 is very limited. I would like to thank the two teams for their seamless cooperation to create a win-win solution. COSCO SHIPPING Lines will continue to enjoy Seaspan's excellent operational quality, scale and flexibility. On the other hand, According to the current market conditions, the company can lock in leases in advance to further strengthen the long-term lease model. The mutually beneficial practices implemented to meet the strong demand of COSCO Shipping Lines and other strategic customers will help stabilize the market and benefit our customers. Competitiveness and success in serving its end customers."
As the world's largest independent container ship owner, Seaspan was established in 2000 and is headquartered in Hong Kong. Seaspan has industry-leading ship management services, and its business scope mainly provides chartering services for the world's large container liner companies based on the principles of long-term, fixed-rate, and time chartering.
As of March 31, 2021, Seaspan's global fleet includes 127 ships with a total capacity of approximately 1.0732 million TEU. On May 19, Seaspan announced the receipt of 2 second-hand ships, expanding the fleet to 129 ships of 1.090,200 TEU. With the addition of 39 new ships under construction and the additional 2 second-hand ships that have been agreed to be purchased, the total capacity of the Seaspan fleet will be increased to 1,694,200 TEU after all delivery.