On June 16, Tianjin Xingang Shipbuilding Industry Corporation successfully signed and delivered the world's largest civilian hospital ship "Global Mercy" for American shipowner Mercy Ships, and will go to Belgium for the remaining installation work.
"Global Mercy" (NB011-1) hospital ship 37000 gross tonnage, total length 174.1 meters, profile width 28.6 meters, design draft 6.15 meters, design headroom above waterline 41 meters, service speed 12 knots, comfort and safety standards They are all built in accordance with the standards of luxury cruise ships and are classified as Lloyd's Register of Shipping. The voyage has a capacity of 500 people, and the rated capacity can reach 950 people during the docking period in the port. There are a total of 12 decks. The hospital part is the key functional area of the ship. In addition to being equipped with modern medical equipment, it also has 6 operating rooms, 200 beds, a laboratory, an ophthalmology clinic, and a dental clinic. The living area is equipped with schools and living areas and sightseeing and leisure areas including VIP cabins, family suites, restaurants, cafes, shops, libraries, cinemas, banks, post offices, outdoor swimming pools, etc. It is fully functional and can be called a mini water city. It has the characteristics of safety, comfort, environmental protection, energy saving and intelligence.
"Global Mercy" is currently the world's largest and most advanced unofficial hospital ship. It is designed and built in accordance with luxury cruise specifications and can sail around the world. It provides free charity medical care and professional training for the poorest areas in the world. It is a similar product in the industry. The benchmark of China has received extensive attention from the international community. Construction of the "Global Mercy" began in 2015, launched in February 2018, undocked in July 2019, and made its first public appearance in October 2020. After delivery this year, it will begin formal operations in 2022.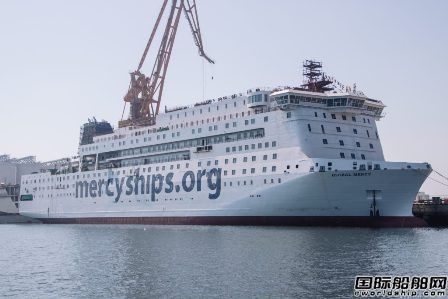 "Global Mercy" embodies a kind of international cooperation. According to the international shipping network, the ship was built by Tianjin Xingang Shipbuilding Industry Co., Ltd., with project management provided by Stena RoRo of Sweden, and design provided by Deltamarin of Finland. French brokerage firm Barry Rogliano Salle played an important role in contract negotiations. The ship is classified by Lloyd's Register of Shipping and will be registered in Malta and fly the flag of Malta.
In terms of safety, the ship is the first passenger ship of Lloyd's Register of Shipping (LR) that meets the latest technical requirements for safe return to port. The highly redundant all-electric propulsion system and life support system can make the ship in the 8th class of severe sea conditions. Return to port safely; in terms of comfort, it meets the comfort of DNV COMF V(2) passenger ships, and the hardcover design adopts European standards, far exceeding the general cruise ship and ROPAX; in terms of environmental protection, the outer panel antifouling paint, ballast water treatment, and harmful substances Management, nitrogen oxide emissions, sulfur oxide emissions, oil tank protection, refrigerant use, etc., all meet ECO requirements, have a green environmental protection certificate issued by the British Lloyd's Register of Shipping, and have advanced garbage classification management and treatment equipment; In terms of energy saving, the main equipment adopts frequency conversion control, waste heat utilization of generator sets, energy recovery of air conditioning units, and air conditioning condensed fresh water recovery and reuse. In terms of intelligence, it has a strong intelligent network system and is equipped with a VSAT antenna, which can be used with telemedicine. Cloud platforms are connected.
The "Global Mercy" is a hospital ship with advanced design concepts. It has a complex system and many difficulties in construction. It is the first to be built in China. In the process of production design and construction, the company overcomes the technical problems of thin plate welding anti-deformation technology, overcomes the requirements of high hull construction accuracy and outfitting accuracy requirements, strict weight control of the empty ship, high vibration and noise control requirements, and cleanliness requirements of the hospital area. High, cabin room decoration level is high, and the garbage disposal system, air-conditioning system, automatic control system, IT network system safe return to port system is complex, difficult to install and debug and other difficulties.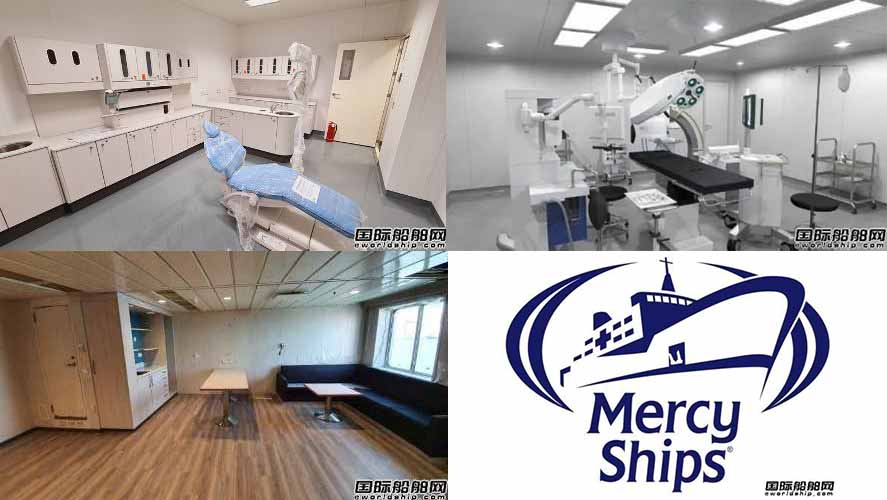 "Global Mercy" has 6 operating rooms and wards that can accommodate 200 patients, in addition to laboratories, general outpatient clinics, ophthalmology and dental clinics. It can accommodate 950 people in the port, including 641 crew members composed of volunteers from all over the world. The ship is specially equipped with first-class training facilities, so that the ship can provide the necessary surgical and related skills sustainable support for local medical and health care professionals when it is docked. The charity expects that within the estimated 50-year life of the ship, its current impact will more than double through local surgical treatment and training of local healthcare professionals.
The ship received much attention at the beginning of its construction, and received strong support from all walks of life during its construction. Among them, Lingang Customs regularly visits the company to conduct in-depth investigations, follow up the progress of the project in a timely manner, exempt the company from processing trade risk deposits, publicize relevant policies, and clear away obstacles and eliminate hidden dangers for enterprises in advance. The fraternal units have sent experts to the company many times to discuss the hospital ship project. The smooth delivery of the hospital ship this time has accumulated rich experience for the follow-up of the same type of products, further demonstrated the company's production and construction capabilities, and marked a solid step for the company to transform into a high value-added ship.

Rob Corley, chief operating officer of Mercy Ships, stated that the "Global Mercy" will go to the port of Antwerp in Belgium after delivery, where the "Global Mercy" will complete several months of final equipment and staffing, including the installation of medical equipment and IT systems. , And to provide supplies to ships through the Mercy Ships European Distribution Center in the Netherlands. Global Mercy will finally depart from Rotterdam for this European trip to Africa to meet with its sister ship "Africa Mercy". Mercy Ships plans to conduct a trial operation in Dakar, Senegal in 2022, and then begin to provide services to Africa in early 2022.
It is understood that Mercy Ships is a faith-based global organization, operated by charitable donors and volunteers, and has been providing free world-class surgical treatment to those in need for more than 40 years. As a member of the global charity Mercy Ships fleet, the "Global Mercy" will fulfill the organization's mission to improve the level of health care in developing countries. The "Global Mercy" medical ship is Mercy Ships' fifth hospital ship. This hospital ship will join the existing Africa Mercy and more than double the influence of volunteers and charities to provide services.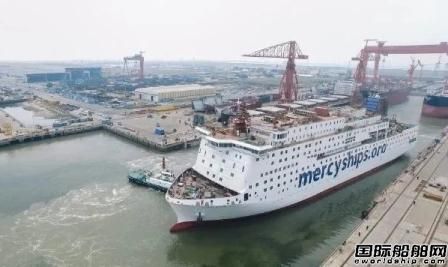 Taixing Expansion Marine Equipment (EME) is the professional designer, manufacturer and exporter of mooring winch, positioning winch, towing winch, anchor winch, diesel winch, electric windlass, hydraulic windlass, diesel windlass, electric capstan, hydraulic capstan, pneumatic capstan etc. Our products are mainly for scientific research vessel, navy vessel, working barge, tug, cargo vessel, oil tanker, offshore platform etc.