A new ship had just been delivered in the morning, and a gantry crane collapsed in the evening. On the last working day before the "May 1st" holiday, New Era Shipbuilding experienced a day of "sorrows and joys".
On the evening of April 30, a large gantry crane of New Era Shipbuilding suddenly collapsed. At the time of the incident, it was at the time of extreme disasters in many parts of Jiangsu Province. Workers at the scene who witnessed the collapse then saw an ambulance rushing to the scene of the accident. As of now, it is still uncertain whether there have been casualties.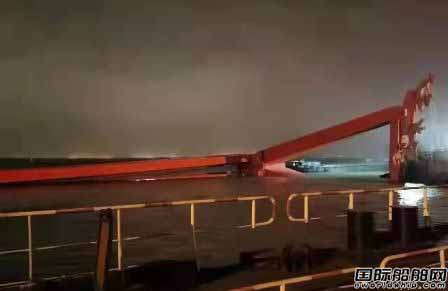 According to the Jiangsu Meteorological Observatory, from 18:00 to 21:00 on April 30, affected by the northeast cold vortex, strong winds along the Yangtze River and north of Jiangsu Province were accompanied by strong convective weather such as hail. On the night of April 30, early warning signals of thunderstorms and strong winds were issued in many places in Jiangsu Province. Statistics from the Taizhou Meteorological Observatory showed that the maximum wind force in Taizhou was at level 12 (33.2 m/s) that night. Affected by strong convective weather, the Jingjiang area was violent.
The source revealed to the International Shipping Network that the 600-ton gantry crane of the new era shipbuilding was collapsed this time. According to information on the official website of New Era Shipbuilding, in 1999, in order to increase production capacity, New Era Shipbuilding (then named Jingjiang Shipyard) invested 200 million yuan to implement the third phase of the technical renovation project, and built a 360-meter-long, 76-meter-wide building. A 300,000-ton dry dock equipped with 600-ton gantry cranes and a 500-meter-long 100,000-ton outfitting wharf.
In 2001, the 300,000-ton dry dock and the 100,000-ton outfitting wharf were completed and put into production. The project was approved by the Commission of Science, Technology and Industry for National Defense and other relevant national ministries and commissions. Not only has it rapidly expanded the company's production capacity and scale, it has also further enhanced the company's weight in the shipbuilding industry in Jiangsu and even the whole country.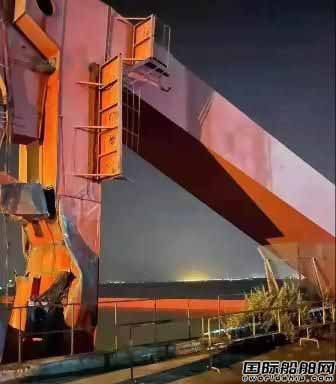 It is worth mentioning that the 600-ton gantry crane was the largest shipbuilding crane designed and manufactured in my country at that time. It was designed by the Ninth Design and Research Institute of China Shipbuilding Industry. New Era Shipbuilding undertook the construction and production of the entire gantry crane. For more than 20 years, this 600-ton gantry crane can be said to be a "meritorious" gantry crane for shipbuilding in the new era.
Clarkson's data shows that New Era Shipbuilding currently holds orders for 35 ships of about 4.298 million dwt, of which 16 will be delivered within this year, and three are scheduled for delivery in May. They are 50,000 dwt of refined oil for Shandong Shipping. /Chemical tanker "SOLAR CHERYL", 156,586 dwt tanker "Gloria Maris" built for Moundreas, NG, and 115,000 dwt tanker "Aigeorgis" built for Chartworld Shipping.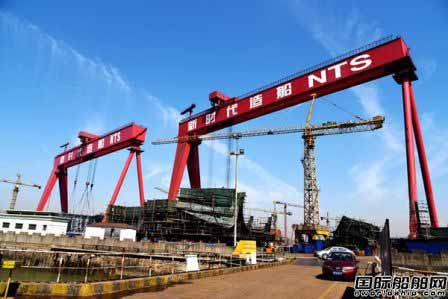 However, the "SOLAR CHERYL" was delivered to Shandong Shipping on the morning of April 30. This is the second of the first batch of 8 50000 dwt IMO II petrochemical vessels ordered by Shandong Shipping in the new era of shipbuilding.
Just a week ago, New Era Shipbuilding and Shandong Marine Tanker Company signed a contract of intent for the construction of 10 new 50,000-ton chemical tankers.
According to reports, as one of the largest civil shipbuilding companies in China, all ships produced by New Era Shipbuilding are exported overseas. Currently, the company's main products are divided into four categories, bulk carriers, oil tankers, container ships, and chemical tankers. With a high international and domestic reputation, the company will focus on the development of new products such as cruise ships in the future, strive to make the company more refined and stronger, and continue to maintain its international influence and competitiveness.
Last year, despite the impact of the epidemic, New Era Shipbuilding still fully completed the major production nodes. In the year, 26 ships with a total weight of 2.936 million dwt were started, 25 ships with a total weight of 4.0485 million dwt, and 26 launched ships with a total weight of 4.163 million dwt. 27 ships with a total deadweight of 4,420,700 tons were completed and delivered.
In 2021, New Era Shipbuilding plans to start construction of 20 ships with a total of 3.15 million tons, 24 ships of 2.75 million tons, 25 ships of 2.9 million tons, and 27 ships of 3.358 million tons.
According to International Shipbuilding Network, New Era Shipbuilding currently has one large dry dock of 100,000 tons, 300,000 tons, and 500,000 tons each, one 300-ton gantry crane, one 600-ton gantry crane, two 800-ton gantry cranes, and 600-ton gantry cranes. The ton crane is still one of the main door cranes in the shipyard. At present, it is still uncertain whether the collapse of the 600-ton gantry crane will affect the delivery arrangements of ships under construction in the new era of shipbuilding.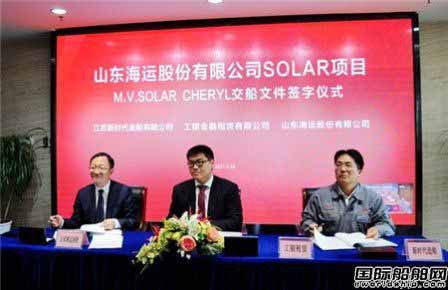 Taixing Expansion Marine Equipment (EME) is the professional designer, manufacturer and exporter of mooring winch, positioning winch, towing winch, anchor winch, diesel winch, electric windlass, hydraulic windlass, diesel windlass, electric capstan, hydraulic capstan, pneumatic capstan etc. Our products are mainly for scientific research vessel, navy vessel, working barge, tug, cargo vessel, oil tanker, offshore platform etc.