One ship was delivered, one ship was named, and 10 more 50,000 ton tankers were ordered. Shandong Ocean Group has been steadily building up its capacity to continue to rank third in China, and in just 10 years, this once small local shipowner has quickly become an internationally influential Chinese shipping company.
Delivery of the first of 80 50,000 dwt IMO Type II tankers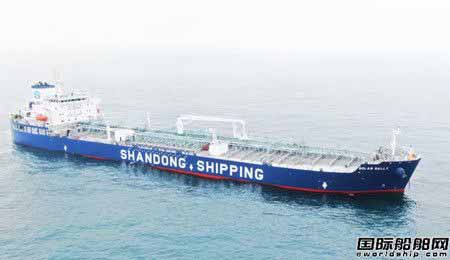 The vessels are 183.23m long, 32.2m wide, 19.1m deep, with a structural draft of 13.3m, an energy efficiency design index reduced by 32% compared to the baseline, a flexible and efficient loading design and a new washwater system, a MAN B&W 6G50ME-C9.6 Tier III (SCR) main engine, SCR technology for both main engine and generator and a fuel system designed in accordance with EU Regulation 1257/2013 (EU). It is equipped with an advanced ballast water management system and a vapour control system for liquid cargo tanks, and has been awarded the CCS GPR(EU) (Green Passport), BWMS (Ballast Water Management System) and VCS (Vapour Control System) additional marks for energy efficiency, safety, green and environmental protection. The performance indicators in energy saving, safety, green and environmental protection have reached the world leading level. The vessel is classified by China Classification Society CCS and DNV. It is reported that the construction of this type of series of vessels is the first time Shandong Shipping cooperates with New Era Shipbuilding.
It is reported that in September 2019, Shandong Shipping and Shell Netherlands Group signed a time charter contract for eight 50,000 dwt IMO II oleochemical vessels in Jinan. According to the contract, Shandong Shipping provided logistics services for Shell's "Project Solar" project for the transportation of refined oil products worldwide. At the time, Shandong Shipping also signed a cooperation framework agreement with ICBC Financial Leasing Co.
It is reported that the vessel "SOLAR SALLY" will depart soon after delivery to provide product oil transportation services for the Shell Group worldwide.
Construction of 10 more tankers to maintain the third largest capacity in China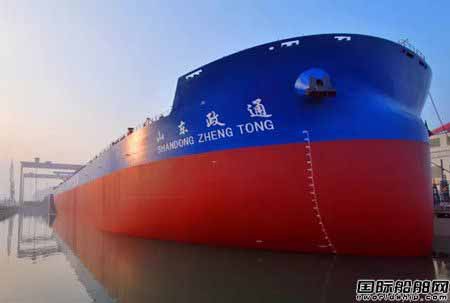 It is worth mentioning that on the site of the naming and delivery ceremony of the two vessels, Shandong Shipping also signed a letter of intent for the construction of 10 50,000 dwt IMO II oleochemicals vessels with Jiangsu New Era Shipbuilding Co. The signing further consolidated Shandong Shipping's position in the international oil and chemical products transportation market, marking a new step in Shandong Shipping's layout in the field of medium-haul product oil transportation.
According to the international ship network, Shandong Shipping Co., Ltd. is an enterprise under the authority of Shandong Ocean Group.
Ltd. is a wholly-owned subsidiary of Shandong Ocean Shipping specializing in tanker transportation, established in April 2016, and is the main enterprise of Shandong Ocean Shipping's liquid bulk transportation segment, dedicated to international transportation of refined oil and crude oil. Ltd. owns 11 MR tankers and operates 3 Very Large Crude Carriers (VLCCs), of which 8 50,000-ton IMO II product/chemical tankers under construction have signed long-term time charter leases with Shell Group.
According to the report, after the project is landed, Shandong Shipping's oil and chemical vessels will grow from the original 3 to 11, leaping to become the third largest product oil transportation fleet in China, after COSCO Shipping Group and China Merchants Group. In addition, the project is signed on an 8-year fixed charter, the rental price is not affected by market fluctuations, which can lock in long-term operating income for Shandong Shipping.
From the current situation, when the eight 50,000 dwt oleochemicals vessels project started to be delivered one after another, Shandong Shipping was not satisfied with the title of "the third largest domestic product tanker fleet", but was doing its best to enhance its own capacity scale and consolidate its position in the international oleochemicals transportation market.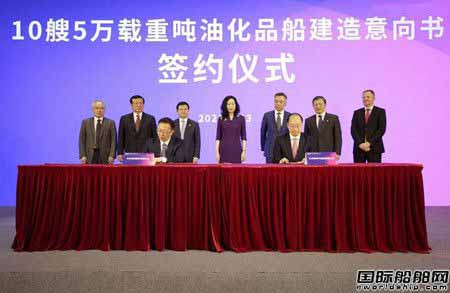 Shandong Ocean Group Group was established in September 2010. In recent years, Shandong Ocean Group has continued to strengthen and expand its ocean shipping logistics business, achieving rapid development of dry bulk, oleochemicals and LPG transportation sub-sectors. While the scale of the ultra-large liquefied gas transportation fleet continues to be the first in China, the scale of oleochemical ship capacity has rapidly increased to the third in China.
Clarkson data shows that Shandong Marine fleet has a capacity of 60 vessels, including 41 bulk carriers, 2 chemical carriers, 1 product tanker, 13 LPG carriers and 3 general cargo carriers. There are 15 orders in hand, including 6 bulk carriers, 7 chemical tankers and 2 liquefied gas carriers.
Up to now, the total scale of capacity controlled by Shandong Ocean Group reached 13.23 million DWT, continuing to rank third in China. In the international market, Shandong Ocean Group has established long-term cooperation with international customers such as Vale of Brazil, Rheinland Group of Germany, Bunge Group of the United States, Shell Group of the Netherlands, BHP Billiton of Australia, etc., and has established Shandong brand in the international market, reversing the situation of "strong port and weak shipping" in Shandong Province, which has strongly promoted Shandong economic and social development.
According to the international ship network, Shandong Shipping signed a letter of intent with New Era Shipbuilding for the construction of 10 50,000 dwt IMO II tankers, which were also leased by Shell. As early as the beginning of 2019, there was news that Shandong Shipping was negotiating with Shell Oil to sign a tanker charter for Shell's "Project Solar" project, and would order a series of up to 16 (10+6 optional) MR-type tankers for the project. This was followed by news that ICBC Leasing had entered into discussions with New Era Shipbuilding for more than 10 IMO II MR tankers.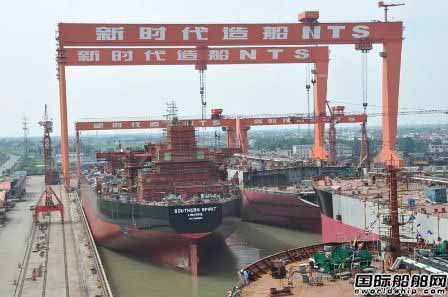 In addition, according to international ship network, New Era Shipbuilding has signed 2 new contracts for 13,000 TEU container ships and 1 new contract for 156,500 DWT Suezmax oil tankers in 2021. In addition, there are 25 intended orders for 4.72 million dwt, or over US$1.5 billion.
Taixing Expansion Marine Equipment (EME) is the professional designer, manufacturer and exporter of mooring winch, positioning winch, towing winch, anchor winch, diesel winch, electric windlass, hydraulic windlass, diesel windlass, electric capstan, hydraulic capstan, pneumatic capstan etc. Our products are mainly for scientific research vessel, navy vessel, working barge, tug, cargo vessel, oil tanker, offshore platform etc.