Mining giant Rio Tinto has finalised a major order for 12 LNG-powered bulk carriers to be built at two Chinese shipyards, becoming the next major mining company to invest in LNG-powered vessels at Chinese yards, following BHP Billiton and Anglo American.
According to sources, Singaporean shipowner Eastern Pacific Shipping (EPS) and South Korean shipowner H-Line Shipping have become the winning bidders in Rio Tinto's LNG-powered bulk carrier tender programme, ordering 6+6 210,000 dwt Newcastlemax bulk carriers. Among them, 3+3 vessels of EPS will be built by New Era Shipbuilding and 3+3 vessels of H-Line will be built by Qingdao North Shipbuilding Heavy Industry.
The new vessels are said to be equipped with MAN Energy Solutions' high-pressure ME-GI engines and have two 3,100m3 C-type LNG storage tanks. Shipbroker Banchero Costa said the new vessels ordered by H-Line and EPS will be delivered between late 2023 and early 2024 and that Rio Tinto will enter into a time charter for the bulk carriers for 10 years to transport iron ore from Australia to China. The cost of each new vessel is expected to be US$67 million. This means that the 12 new vessels will total US$804 million when all the alternative orders are confirmed.
Rio Tinto has previously stated that it is committed to achieving IMO's target of a 40 per cent reduction in emissions by 2030, as well as its own long-term goal of net zero carbon shipping by 2050. "We recognise that LNG is a much cleaner fuel for shipping. While LNG is not the perfect solution for reducing emissions, it can be used as a transitional fuel on the industry's path to decarbonisation." "We will continue to explore and work with our shipping partners to develop alternative low to zero carbon fuels for our shipping trade."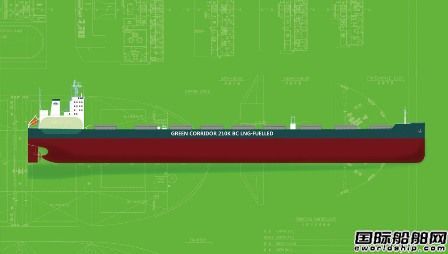 Back in 2017, Rio Tinto Group, together with partners including BHP Billiton, FMG, COMSAT Mitsui, Yumin Shipping, Woodside Energy, Shanghai Ship Research & Design Institute and DNV GL, undertook a joint industry project called "Green Corridor". The decision was made to join forces to build LNG-powered bulk carriers to carry iron ore and coal on the Australia to China route.
"The LNG-powered bulk carrier launched under the Green Corridor project is based on the Shanghai Shipbuilding Research and Design Institute's energy-efficient "Green Dolphin" design. Fuel consumption analysis has shown that an LNG bunker of approximately 6,000 cubic metres in size is the optimal solution to complete a round trip voyage to Australia after refuelling. The design features two LNG bunkers located directly above the cabin and the bottom of the tanks a few metres below the main deck.
Rio Tinto is the third mining giant to enter the LNG-powered vessel market. Last year, Australian mining giant BHP Billiton (BHP) and EPS have signed a charter for five 209,000 dwt LNG-powered Newcastlemax bulk carriers, with the new vessels to be built jointly by Waigaoqiao Shipbuilding and New Age Shipbuilding, with Waigaoqiao building two and New Age three, at a reported cost of around US$66 million each, for a total of five vessels worth US$330 The total value of the five vessels was US$330 million.
In addition, Anglo American, a multinational mining company, finalised an order for the first four LNG-powered 190,000 dwt Cape of Good Hope bulk carriers in November last year, which were ordered by Yumin Shipping at Waigaoqiao Shipbuilding. The cost of each vessel is estimated at approximately US$65 million, with a total value of US$260 million for the four vessels. In March this year, Anglo American Shipping, a subsidiary of Anglo American, placed an additional order for two LNG-powered 190,000 dwt bulk carriers at Waigaoqiao Shipbuilding.
Meanwhile, another Australian mining giant, Fortescue Metals Group (FMG), tendered for the charter of 5+5 209,000 dwt dual-fuel bulk carriers earlier this year, with each vessel expected to cost between US$68 million and US$70 million, meaning that 10 vessels could total up to US$700 million.
Together with the 12 vessels to be ordered by Rio Tinto, the LNG-powered bulk carrier orders for the four mining giants mentioned above total an investment of more than US$2.2 billion. Apart from FMG's order, for which it is uncertain where it will be built, the 23 vessels ordered by BHP Billiton, Anglo American and Rio Tinto are all being built by Chinese shipbuilders.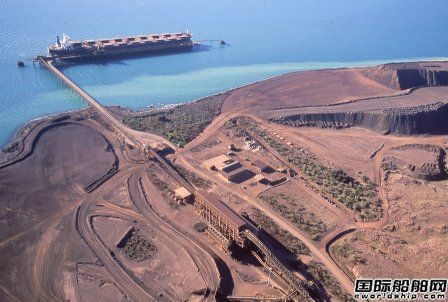 Established in 1873, Rio Tinto is one of the world's largest resource extraction and minerals suppliers and the second largest iron ore producer in the world, with the largest market share in China, exporting mainly iron ore, copper, alumina, nickel, gold, borates and titanium oxide raw materials to China. China is also currently the fastest growing market for Rio Tinto's business, with the company now having an agreement to sell 85 million tonnes of iron ore per annum to China.
Rio Tinto Group reported strong results in 2020, with sales revenue of US$44.611 billion, up 3.3% year-on-year, and net profit attributable to shareholders of the company of US$9.769 billion, up 22.0% year-on-year. Sales revenue from Rio Tinto Group's iron ore business reached US$27,508 million, a significant increase of 14.3% year-on-year, and net profit reached US$11,398 million, a significant increase of 18.3% year-on-year, benefiting from the growth in iron ore shipments and a significant increase in average sales price.
Recently, the new Rio Tinto Group CEO Shi Daocheng said in a media interview that Rio Tinto's sales revenue in 2020, more than half from China. In the face of the huge impact of the new pneumonia epidemic on the global economy, the resilient performance of the Chinese economy is an important support for the price of iron ore and other Rio Tinto products.
Although Rio Tinto is an international company, its business planning depends to a large extent on understanding the direction of development in China, said Shi Daocheng. "China has a very credible and robust development plan and ambitions in terms of carbon reduction. This provides a very important basis for us to judge demand for products such as iron ore, aluminium, copper and battery metals, and gives us greater certainty in planning the direction of our business."
Taixing Expansion Marine Equipment (EME) is the professional designer, manufacturer and exporter of mooring winch, positioning winch, towing winch, anchor winch, diesel winch, electric windlass, hydraulic windlass, diesel windlass, electric capstan, hydraulic capstan, pneumatic capstan etc. Our products are mainly for scientific research vessel, navy vessel, working barge, tug, cargo vessel, oil tanker, offshore platform etc.