After completing the US$3 billion order intake target in just two months at the beginning of the year, Yangtze River Shipping Group continued its strong order intake momentum and has received 15 new ship orders since the beginning of March, with the order intake exceeding US$4 billion in the first one-third of this year.
On April 19, Yangtze River Shipping Group announced that the company had recently received orders for 15 new vessels, including six 15,000 TEU container ships, two 2,400 TEU container ships, two 50,000 dwt MR-type product tankers, three 82,300 dwt bulk carriers and two 31,800 dwt Great Lakes type bulk carriers. The 15 vessels have a total contract value of US$970 million (approximately RMB6.317 billion) and most of the new vessels will be delivered between 2022 and 2023.
Yangzijiang Shipping Group did not disclose specific information about the latest order. However, Clarkson data shows that Yangzijiang Shipping Group's latest six 15,000 TEU containerships come from Seaspan, the world's largest independent containership owner, which is understood to have announced on 8 March that it had signed an agreement with a major shipbuilder to build six 15,000 TEU containerships, a batch of modern, high-quality containerships to be delivered from the fourth quarter of 2023 Deliveries will start from the fourth quarter of 2023 and will be subject to long-term chartering contracts with international liner companies.

It is worth mentioning that Seaspan has been back in the newbuilding market since the end of last year, with the majority of the 37 new vessels ordered to date being placed with Yangzijiang Shipping Group. In addition to the six 15,000 TEU container vessels mentioned above, Seaspan returned to the newbuilding market in December last year after a ten-year hiatus, ordering five 12,200 TEU container vessels from Yangzijiang Shipping Group. On March 4, Seaspan ordered four 11,800 TEU and four 15,000 TEU container vessels from Yangzijiang Shipping.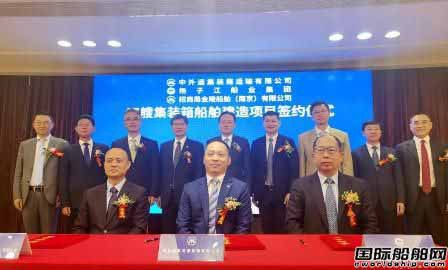 In addition, the latest order for 2 x 2400 TEU container vessels comes from Sinotrans Container Lines. Yangtze River Shipping Group just signed a contract with Sinotrans Container Lines Limited, a subsidiary of China Merchants, for 2 x 2400 TEU container vessels on April 16, which are scheduled to be delivered one after another in the third quarter of 2023.
This cooperation is the first cooperation between Yangtze River Shipping Group and China Merchants Group on a container ship project after the 400,000-ton ore vessel project, demonstrating the shipowner's recognition of Yangtze River's container ship brand, further consolidating the Group's leading edge and market popularity in the field of container ship design and construction, and opening a new chapter of cooperation between the two sides. The two 2400 TEU container vessels will follow the same type of mature products of Yangzijiang Shipping Group, while optimizing and upgrading the relevant configurations to make them more in line with the individual needs of Sinotrans Group's operations.
Since the beginning of this year, Yangtze River Shipping Group has received 60 new ship orders, with a total value of approximately US$3 billion, which is the largest volume of new ship orders in the past ten years, and has completed its annual order intake target of US$3 billion ahead of schedule. A large proportion of the new orders received are for container vessels, including 43 vessels valued at US$2.6 billion, which are expected to maintain the Group's profitability and secure production commitments for the next two years.
Together with the latest 15 vessels, in just one third of the year, the Yangtze River Shipping Group has already received orders for 75 vessels worth approximately US$4.01 billion (approximately RMB26.114 billion).
With the surge in orders, Yangzijiang Shipbuilding Group has plans to resume operations at Jiangsu Yangzi Changbo Shipbuilding in mid-2021 to increase capacity. Previously, Yangtze Changbo Shipbuilding ceased operations in 2012 due to a low order intake in the past few years. Since then, Yangtze River Shipbuilding Group has integrated the shipyard's construction operations with its three other major shipyards.
Taixing Expansion Marine Equipment (EME) is the professional designer, manufacturer and exporter of mooring winch, positioning winch, towing winch, anchor winch, diesel winch, electric windlass, hydraulic windlass, diesel windlass, electric capstan, hydraulic capstan, pneumatic capstan etc. Our products are mainly for scientific research vessel, navy vessel, working barge, tug, cargo vessel, oil tanker, offshore platform etc.