Following Seaspan's six-ship order at Hudong-Zhonghua and Jiangnan Shipyards, CSG joined hands with GSIC to secure the largest single order for a container vessel in the history of China's shipbuilding industry. In just one week's time, China Shipbuilding Group has received an order for 19 10,000 container ships.
On March 31, China Shipbuilding Trade, a subsidiary of China Shipbuilding Group, joined hands with Big Ship Group and Guangshang International to successfully undertake 13 orders for 16,000 TEU container ships, with a total amount of over RMB 10.6 billion. Among them, CSG will be responsible for the construction of 7 vessels and GSIC will build 6 vessels, which are scheduled to be delivered one after another from 2023 to 2024. The order, which took effect immediately, is the largest single container ship order undertaken by China Shipbuilding Group, marking a significant achievement in the development of the civil ship market and product transformation and upgrading after the restructuring and integration of China Shipbuilding Group, and drawing a successful conclusion to the operation of the shipping and marine business of China Shipbuilding Group in the first quarter.
It is reported that the series of container ships are designed independently by China Shipbuilding 708 Research Institute and all adopt WinGD main engine of China Shipbuilding Group's own brand. The vessel is about 366 meters long, 51 meters wide and can carry 16,000 standard containers. It is a large container ship with green environment protection, high efficiency and energy saving, with a new design that can be modified to use LNG fuel in the future, installed with desulphurization device and a new design of environmental protection and carbon reduction and resistance reduction, fully meeting the latest environmental protection emission standards.

Although the specific information of the shipowner was not disclosed, but according to the international ship network understands, Mediterranean Shipping has previously signed a letter of intent with the big ship group and Guangshang International, will order a series of 15,500 TEU new Panama-type container ships in the two shipyards.
According to the international ship network understanding, Guangships International six 16000TEU container ship construction contract total amount of about 750 million U.S. dollars, equivalent to each ship cost 125 million U.S. dollars. With this price, the total amount of all 13 vessels is about USD 1.625 billion (about RMB 10.673 billion).
It is reported that this is the first time that GSI has received an order to build a container vessel. In the past, GSIC has been mainly building oil tankers, semi-submersible heavy lift vessels and bulk carriers. Clarkson's data shows that, at present, GSIC has 47 handheld orders totaling 3,224,500 DWT, the ship types are mainly oil tankers, bulk carriers, chemical tankers and ro-ro vessels, etc. 16,000 TEU container ships are the programmatic products of GSIC's Nansha plant planning, and are also the strategic products that GSIC urgently needs to expand after the main ship types such as oil tankers, semi-submersibles and passenger ro-ro vessels. In view of the high requirements for precision control and speed of large container vessels, with the mature experience of building and delivering the world's first ultra-quiet scientific research vessel "JIA GENG" and the world's first high-speed dual-fuel luxury ro-pax vessel "VISBORG", CSIC has We have the foundation and advantages of relevant design, construction and technology.
In February 2018, CSIC signed a contract for the construction of 4+2+2 2,500 passenger/3765m lane luxury ro-ro vessels with MSC and MOBY, a subsidiary of Onorato Shipping Group, Italy. This batch order is an extension of the business of passenger ro-ro vessels and ship repair between GSI and the parent company of the ship owner, and it also lays a good foundation for the cooperation between GSI and the parent company of the ship owner in the projects of passenger ro-ro vessels and even medium-sized luxury cruise ships, which is conducive to further playing the advantages of GSI's good equipment and facilities, achieving efficiency improvement, promoting transformation and upgrading, and supporting the high-quality development of the company.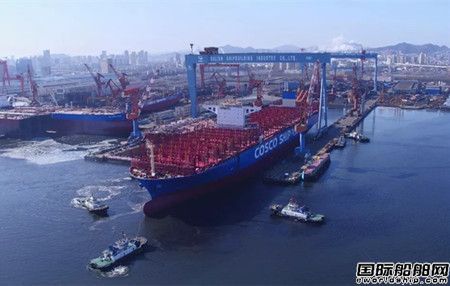 For Dasun Group, this is its second large container ship project following the delivery of 20,000 TEU container ships in 2018. As the main shipyard of China Shipbuilding Group, Da Shipbuilding Group has successfully delivered more than 100 container vessels of various types, and is technically proficient and experienced in the construction of large vessels. This joint order with CSG, the two shipyards are well prepared in terms of vessel space, which provides a strong guarantee for the delivery of vessels on schedule and also lays a solid foundation for the construction of 13 new vessels at one time.
China Shipbuilding Trade is the main platform for the market operation of the shipping and marine industry of China Shipbuilding Group and the main force for international business expansion. During the contracting process, CSBC Trade actively coordinated and integrated the advantageous resources of design units, shipyards and mainframe supporting plants within the group, giving full play to the advantages of the complete industrial chain of marketing, design, construction, supporting and service integration under CSBC Group, ensuring the smooth signing of this large order and once again making a splendid appearance of the independent brand made in China in the international market.
Li Hongtao, Chairman of CSBC Trade, said: "In the first quarter of this year, the container ship market rebounded rapidly, and a number of large orders for large container ships were generated worldwide. Our R&D and marketing staff innovated their working methods and gave full play to our group company's technical advantages of integration of R&D, design, construction, supporting and service, and successfully achieved order acceptance during the best period of the market."
The signing of this order further enhanced the market position and brand effect of China Shipbuilding Group in the field of large container ship construction, and also further consolidated the close cooperation between China Shipbuilding Group and the world's mainstream container shipping companies, providing solid support for China Shipbuilding's independent brand to play a leading role in the international arena; at the same time, it is also a sign of China Shipbuilding Group actively implementing the At the same time, it is also an important manifestation of China Shipbuilding Group's strategy of "international and domestic double-circulation".
It is worth mentioning that on March 26, Hudong-Zhonghua, Jiangnan Shipbuilding and CSG Trade, as joint sellers, signed a contract with Seaspan Corporation, the world's largest independent container ship owner, for the construction of six 15,500 TEU container ships, of which Hudong-Zhonghua and Jiangnan Shipbuilding will each build three.
Taixing Expansion Marine Equipment (EME) is the professional designer, manufacturer and exporter of mooring winch, positioning winch, towing winch, anchor winch, diesel winch, electric windlass, hydraulic windlass, diesel windlass, electric capstan, hydraulic capstan, pneumatic capstan etc. Our products are mainly for scientific research vessel, navy vessel, working barge, tug, cargo vessel, oil tanker, offshore platform etc.