On the morning of March 28, Jiangnan Shipbuilding, a subsidiary of China Shipbuilding Group, officially named the world's first new-built 86,000 cubic meters ultra-large dual-fuel liquefied petroleum gas (VLGC) vessel "GAS VENUS" for Southwest Marine, signifying that Jiangnan Shipbuilding continues to lead the global LPG vessel market and is one step closer to establishing a global LPG vessel It is another solid step towards the establishment of a global LPG vessel construction centre.
Southwest Shipping Chairman Liu Jichun and General Manager Zhang Zuyi, Jiangnan Shipbuilding General Manager Huang Wenfei and Deputy General Manager Lin Qingshan, as well as other leaders and guests attended the ceremony.
The vessel has an overall length of 230m, a design draft of 11.4m, a beam of 36.6m, a structural draft of 12m and a depth of 22.2m. It is Singapore-flagged, classed with Lloyd's Register (LR) and meets the new Tier III, IGC Code emission standards and the latest Sox emission requirements of the International Maritime Organization (IMO).
This series of vessels is the third generation of VLGCs developed and designed by Jiangnan Shipbuilding, and is also the first vessel in the world to use both shaft-holding shaft generator and LPG as power fuel on a new vessel, which has significantly improved the level of environmental protection and energy saving, and meets the new Tier III and IGC Code emission standards and the latest Sox emission requirements of the International Maritime Organization (IMO). At the same time, while keeping the main scale of the vessel unchanged, it adopts line optimization, which increases the cabin capacity by 2,000 cubic metres. Under the same speed, its fuel consumption is the same as that of 84,000 cubic metres VLGC, and the comprehensive economic and technical indicators reach the international leading level.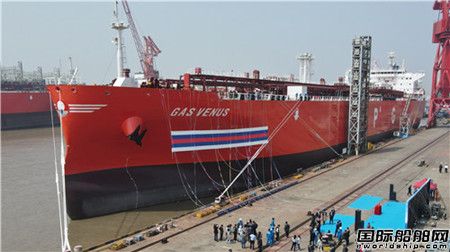 Mr. Huang Wenfei, General Manager of Jiangnan Shipbuilding, said in his speech that since the first cooperation between Jiangnan Shipbuilding and Southwest Marine in 2013, Jiangnan Shipbuilding has delivered a total of eight vessels to Southwest Marine and a stable partnership has been established between the two sides. This vessel is the third generation of VLGC built by Jiangnan Shipbuilding, and is the first newbuilding vessel in the world to adopt LPG as the power fuel and apply shaft-holding type shaft generator. The whole series of vessels are designed and built with "green and zero emission" in mind, following the concept of "high efficiency, environmental protection and safety", especially in terms of economy, reliability and environmental friendliness after operation, showing great advantages. He said, "Jiangnan Shipbuilding will take this opportunity to make a positive contribution to the "carbon efficiency" of the international shipping industry. He said that Jiangnan Shipbuilding will take this naming as an opportunity to promote high-quality cooperation between the two sides while carefully delivering the subsequent sister ships on schedule and with high quality.
Zhang Zuyi, General Manager of Southwest Shipping, expressed his gratitude to China Shipbuilding Group, Jiangnan Shipbuilding, Lloyd's Register, several financial leasing companies, Export-Import Bank and CITIC Insurance on behalf of Ship East. In addition to the characteristics of "leading design, advanced technology, green environment, high efficiency and energy saving, comfortable environment and intelligent management", the most significant feature of the vessels named this time is that Jiangnan Shipbuilding has achieved continuous innovation in the research and development, design and construction of VLGCs, and developed a new generation of VLGCs that lead the world trend of energy saving and environmental protection. He said that in the just-completed successful LPG gas test, facing the world's leading LPG fuel system, all parties involved worked together, made bold assumptions and carefully sought proof, and successively experienced 125 hours of hard work to usher in the victory, which was highly evaluated and approved by Lloyd's Register of Shipping, representing the world's first new-build LPG dual-fuel ultra-large LPG vessel ready for commercial operation. Eight more LPG carriers are currently under construction in Jiangnan. Along with the delivery of nine ultra-large LPG carriers one after another, Southwest Marine's development will surely enter a new milestone. It will bring the capacity of Southwest Marine's ultra-large liquefied gas carriers to a new level and take a step forward in its international operation, and will also make its own contribution to China's maritime transport "carbon peaking and carbon neutral".
Since the vessel started construction in October 2019, especially since 2020, the project team has overcome difficulties such as sudden epidemics, continuous high temperature days, long rainy season, labour constraints and the unavailability of foreign service providers, and has pushed forward the production in accordance with the "745" rhythm proposed by the company to ensure the delivery of the product. The construction team had no experience to draw on, so the equipment installation and commissioning staff carefully analysed the construction drawings, understood the process and consulted relevant information, and communicated with the foreign service provider remotely. This has also laid a solid foundation for the construction of subsequent super-large dual-fuel vessels such as 86,000 cubic meters and 93,000 cubic meters by reserving technology and accumulating experience.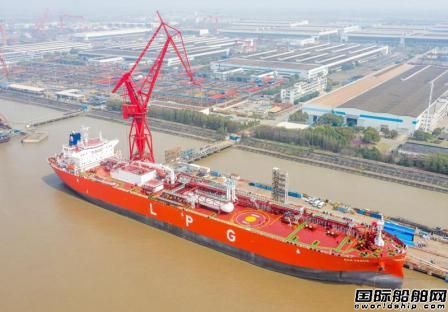 After the naming, the vessel will be signed and delivered at an opportune time in the near future and will be put into operation on the Asia-China/Asia-US route, and its sister vessels will depart for sea trials at the same time. According to the plan, Jiangnan Shipbuilding will deliver seven vessels of this series one after another within the year.
Taixing Expansion Marine Equipment (EME) is the professional designer, manufacturer and exporter of mooring winch, positioning winch, towing winch, anchor winch, diesel winch, electric windlass, hydraulic windlass, diesel windlass, electric capstan, hydraulic capstan, pneumatic capstan etc. Our products are mainly for scientific research vessel, navy vessel, working barge, tug, cargo vessel, oil tanker, offshore platform etc.