On March 18, the third vessel "CMA CMG MONTMARTRE", built for Duffy Group as a joint seller by Jiangnan Shipbuilding and CSSC Trading, was officially named and delivered, which also kicked off the delivery of the new year of Jiangnan Shipbuilding. Mr. Huang Wenfei, General Manager of Jiangnan Shipbuilding, Mr. Chen Weiping, Deputy General Manager of Jiangnan Shipbuilding, Mr. He Ludo, Chief Executive Officer of Duffy China, and Ms. Audrey Dorn, Chief Commercial Officer of Duffy China attended the ceremony. Ms. Wang Miao, founder of Boundless Deep Blue, named the new vessel.
"The Duffy Montmartre is the sixth of nine vessels signed between Duffy and China Shipbuilding Group, and the third to be built and delivered by Jiangnan Shipbuilding. This series of vessels is developed and designed by the 78th Institute, with China Shipbuilding Group having full independent intellectual property rights, and is the world's most advanced dual-fuel container vessel with the best environmental performance. The successful delivery of the "Duffy Montmartre" is an important milestone, as it will inject new vitality into the busy international shipping market and further strengthen Duffy Shipping's transportation capacity.
"The Duffy Montmartre has an overall length of 399.9m, a beam of 61.3m, a service speed of 22 knots, a deadweight of nearly 220,000 tonnes and a carrying capacity of 23,000 TEU, and can carry 2,200 40-foot reefer containers, making it the largest dual-fuel container vessel in the world.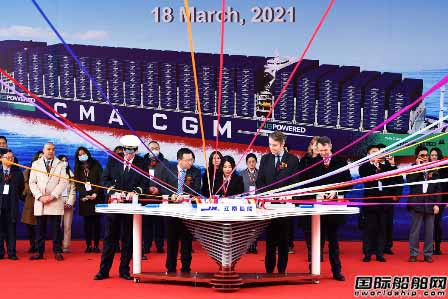 The vessel is the world's first ultra-large container vessel with film-type bunker and dual-fuel propulsion, using LNG as the main fuel. It not only adopts WinGD's dual-fuel main engine, but is also equipped with the world's first GTT MARK III film-type bunker with a capacity of 18,600 cubic metres, which can support the vessel to and from Asia and Europe routes. The vessel also meets the world's most stringent emission standards (the latest global sulphur emission limit targets implemented by IMO 2020), reducing carbon emissions by 20%, NOx by 85% and sulphur by 99% compared to conventional bunker containers, significantly reducing environmental pollution. At the same time, the integrated line and structure are more optimised, and the layout and system of large-capacity reefer containers are further improved, resulting in a significant reduction in operating costs per container and meeting the diversified operational needs of shipowners, making it a veritable "Hulk". The vessel has been optimised for multi-draft and multi-speed lines, and is coupled with highly efficient energy-saving devices to achieve optimum operating economy.
The project is the second cooperation between Duffy Group and Jiangnan Shipbuilding. Both sides took the initiative to communicate and coordinate with each other to ensure the smooth progress of the construction of the 23,000 TEU series of container vessels, and achieved a number of enhancements and breakthroughs in response to the technical difficulties and construction problems identified. For example, through precise calculation and on-site coordination, the minimum refuelling volume was achieved with only 38 tankers to meet the demand, saving 43 tonnes of fuel compared to the previous vessel, achieving both fuel saving and carbon emission reduction; the integrity of the area was further improved, and the refurbishment rate of paint was significantly reduced through refined management, with a 35.4% reduction in comprehensive comments compared to the previous vessel; and new breakthroughs were made in the insulation of the gas system and unit construction process. A new breakthrough was made in gas system insulation and unit construction process, accumulating mature experience for the construction of subsequent 15,000 TEU vessels; a small project management team was formed for the sea trial process, which greatly enhanced the work efficiency and finally achieved a new standard sea trial cycle with both gas and conventional sea trials completed within 6 days.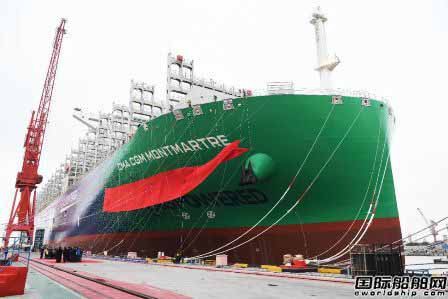 According to the plan, the Duffy Montmartre will sail from China to Busan, South Korea on March 20 to change crew, then call at Ningbo port and sail to Rotterdam, the Netherlands to refuel with LNG, officially joining Duffy's LNG-powered container fleet and putting into operation the Duffy Group's flagship service, the Asia-Europe Line FAL1.
According to the plan, the Duffy Montmartre will sail from China to Northern Europe on March 20 to join Duffy's LNG-powered container fleet and put into operation on Duffy Shipping's flagship service, the Asia-Europe Line FAL1.
Taixing Expansion Marine Equipment (EME) is the professional designer, manufacturer and exporter of mooring winch, positioning winch, towing winch, anchor winch, diesel winch, electric windlass, hydraulic windlass, diesel windlass, electric capstan, hydraulic capstan, pneumatic capstan etc. Our products are mainly for scientific research vessel, navy vessel, working barge, tug, cargo vessel, oil tanker, offshore platform etc.