Recently, Clarkson Research released the 2020 global ship repair yard ranking, according to the 2020 ship repair operation statistics, among the top ten ship repair yards in the world, there are nine shipyards in China on the list, and there are four shipyards in Zhoushan City, respectively, Zhoushan Xinya Ship Repair Co. ranked first. The other 5 Chinese shipyards are: Fujian Huadong Shipyard, Shanghai COSCO Shipping Heavy Industry, Shanghai China Resources Dadong, Shanhaiguan Shipbuilding Heavy Industry, and Shekou Youlian.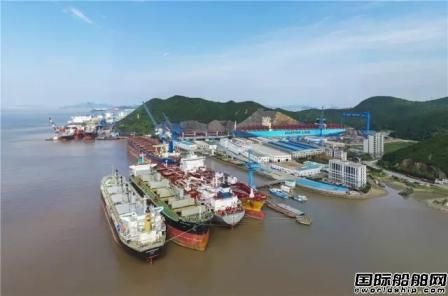 Xinya Shipbuilding Ltd. is the largest shipyard in China's private ship repair yards. After relocating and rebuilding, financial crisis, strategic cooperation in the industry, transformation and upgrading, Xinya Shipbuilding has gone through 19 years since its establishment, and has grown into an industry leader with three production bases, "four docks and ten berths" production capacity, ranking seventh among global ship repair enterprises and the first among private ship repair enterprises in China.
Since 2014, Xinya Ship has adjusted its production structure, gradually shifting from the production structure of mainly repairing low value-added vessels such as bulk carriers to repairing high value-added vessels such as oil tankers, wind power installation vessels and mud suction vessels. At the same time, the company has taken the challenge to improve the hardware facilities and management level, and started to build "6S" standard workshops with a total investment of over 100 million yuan. Up to now, the company has built 6 "6S" workshops.
In addition to repair, Xinya also seeks to transform its business. To this end, Xinya grasped the market opportunity of the growth of the demand for the retrofitting of desulfurization devices and successfully undertook the order for the retrofitting of desulfurization tower. In the face of the large amount of desulfurization tower modification works, tight dock repair cycle, long berthing time, high process difficulty and shortage of human resources, the company developed and invented its own ship desulfurization tower installation device platform and lifting device, which not only ensured the progress of desulfurization tower ship modification, but also enhanced the production efficiency and safety. According to the British Clarkson survey data, at present, Zhoushan Xinya Ship Repair Co., Ltd. has entered the top ten of the global desulfurization device refitting business. Due to the implementation of the international ship desulfurization standard in 2020, large shipping companies have ushered in a big year of ship repair, and the annual ship repair volume of Xinya Shipyard has exceeded 400 ships in 2020.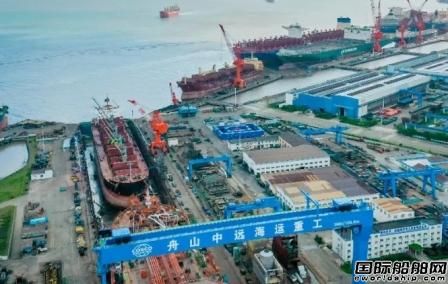 In 2020, COSCO Shipping Heavy Industry in Zhoushan continued to seize market opportunities, increase scientific and technological innovation, enhance the repair and conversion technology level, continue to consolidate the advantages of high-end conversion field, and continue to grow bigger, better and stronger ship repair business, the annual completion of repair and conversion of 197 ships, ship repair output value hit a record high, business income exceeded the shipbuilding business for the first time.
COSCO Shipping Heavy Industry in Zhoushan continues to deeply practice the concept of green environment protection, actively promote the ultra-high pressure water rust removal process and realize the integrated vacuum recycling of waste water; make VOCs collection and recycling tooling for open-air spraying operations, speed up the upgrading of painting rooms and so on, and promote the organized emission of VOCs; sign strategic cooperation agreements with Zhejiang Fashijie and COSCO Jotun, strengthen the innovation of environmental protection process and independent research and development of environmental protection technology, and strive to build "In 2020, the company was recognized as "Zhoushan Green Ship Repair Demonstration Enterprise" and "Clean Production Enterprise of Zhejiang Province".
COSCO Shipping Heavy Industry in Zhoushan has continued to increase the research and application of new technologies such as green ship repair and intelligent ship repair, combined with "5G+Wisdom Ship Repair in Zhoushan", and actively cooperated with China Classification Society (CCS) and China Mobile (CMCC) to use 5G+AR remote inspection technology and 5G+UAV near-view inspection technology to complete the first remote inspection of 230,000 ore ship "Renda". The annual inspection of the ship "Renda" was completed for the first time. Under the crisis of global new crown pneumonia epidemic, it highlights the value of remote inspection, service and guidance, and provides customers with more transparent and traceable control mechanism of ship repair site.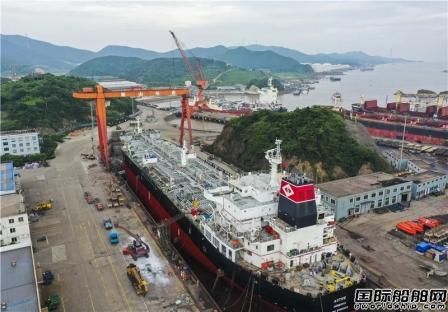 Longshan Shipyard is the first shipyard in Liuyang and one of the oldest ship repairing yards in Zhejiang. Longshan shipyard has cultivated a large number of ship repair technology and management talents, so it is called the "Whampoa Military School" of ship repair industry.
Since around 2015, the sluggish international shipping situation has forced ship repairing enterprises to transform and upgrade. Longshan shipyard also began to adjust and improve the industrial structure, gradually shifting from the original product structure of mainly repairing bulk carriers to mainly repairing high value-added ships such as oil tankers and cement roll-on/roll-off ships. At the same time, the shipyard has increased investment in technical reform, promoted green ship repair, introduced high-end technical talents, improved the professional technical ability of front-line staff, and gradually transformed from conventional repair to modification business with high technical content and high value-added ship repair.
Since last year, Longshan shipyard seized the opportunity of desulfurization tower modification, cooperated with Shandong Pesen Environmental Protection Technology Co., Ltd. to build desulfurization tower project with a total investment of nearly 100 million yuan, and started 50 million yuan desulfurization tower manufacturing project. March 18 last year, Zhoushan Long Ship Environmental Protection Technology Co., Ltd. the first set of desulfurization tower completion and delivery ceremony held in Zhoushan Longshan Shipyard Co.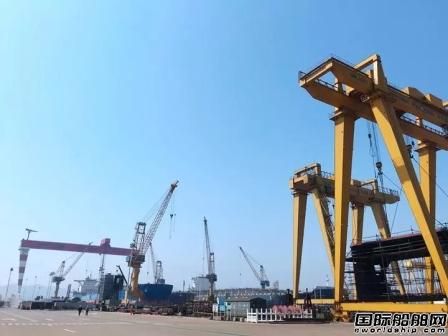 Pacific Offshore (Zhoushan) Co., Ltd. is one of the six leading enterprises in Zhoushan City for shipbuilding and offshore equipment, and is a wholly-owned subsidiary of Singapore Pacific China Group (Zhoushan) Pte Ltd, a subsidiary of Singapore's Guo Brothers Group. The company has one of the largest shipyards in Zhoushan City, capable of undertaking repair operations for 400,000-ton oversized ore carriers, and is now transformed into a repair yard with ship repair as its main business, focusing on the repair markets of Japan, Korea, Taiwan and Southeast Asia, and receiving ship types ranging from bulk carriers, container ships and oil tankers to oversized ore carriers.
In recent years, international organizations have tightened the requirements for green ship repair, and the international operating fleet is facing many ship repair needs as required by environmental protection regulations. In 2020, Pacific Ocean Engineering (Zhoushan) Co., Ltd. repaired and completed 180 ships, an increase of 25% year-on-year, and the output value reached 900 million, an increase of 38% year-on-year.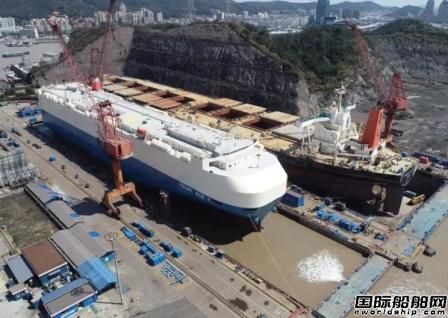 Although Wanbang Yongyue is not on the top ten list this time, it is definitely the "class representative" of China's ship repair industry and the pioneer of China's "green ship repair" concept. It is the pioneer of the concept of "green ship repair" in China.
At the beginning of 2021, the production of Zhoushan Wanbang Yongyue Ship Repair Co. Last year, the company repaired 133 ships, with daily average of 12 ships, output value of 1.15 billion, profit after tax of 400 million, and profitability in the forefront of national ship repair industry. According to the analysis of 2020 ship repair performance of China Ship Repair Association Ship Repair Branch, Zhoushan Wanbang Yongyue Ship Repair Co.
Wanbang Yongyue is the pioneer of the concept of "green ship repair". In recent years, Wanbang Yongyue has developed vacuum ultra-high pressure water jet rust removal tools such as "Dockyard Warrior" and "Dockyard Elephant" robots to completely eliminate the highly polluting sand blasting and rust removal. According to statistics, in the past 4 years, the net profit of Wanbang Yongyue has exceeded 700 million yuan, while reducing the use of waste copper ore containing harmful substances by more than 300,000 tons. With the application of new equipment, more and more foreign shipowners choose to repair high value-added ships such as ro-ro ships, chemical ships and cruise ships to Wanbang Yongyue.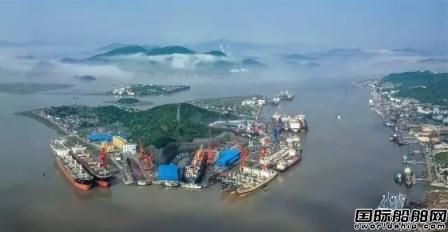 In recent years, relying on good geographical advantages and port shoreline, Zhejiang Pilot Free Trade Zone actively build international green ship repair base, last year, Zhejiang Pilot Free Trade Zone, "green ship repair enterprise management" was selected as the sixth batch of pilot reform experience in the Free Trade Zone and for national promotion. Zhoushan City ship repair industry in 2020 also ushered in counter-trend growth, many foreign shipowners have chosen to Zhoushan ship repair and maintenance, many foreign ships waiting in line to enter the port repair.
According to statistics, in 2020, the repair of foreign ships in Zhoushan City reached 1900, the output value of 5.3 billion yuan, an increase of 20%.
The high profitability behind the green ship repair. Over the years, Zhoushan shipbuilding enterprises focus on the use of high-pressure water rust removal and other green advanced ship repair technology, effectively reducing costs, while seizing the opportunity of the last two years of desulfurization tower conversion business, changing the previous conventional ship repair ideas, choose more like oil and chemical vessels, cruise ships and other high value-added ship repair, profits more than ten times higher.
At the same time, COSCO Heavy Industries, Xinya ship and other major shipbuilding enterprises according to local conditions to prepare and implement the "ship repair enterprise mechanical and electrical work area 6S workshop management standards" "ship ultra-high pressure water injection treatment process standards" "ship repair enterprise steel utilization technology specifications" and other green ship repair specific technical specifications standards, greatly enhance the core competitiveness of enterprises.
In recent years, international organizations have tightened the requirements for green ship repair, and the international operating fleet faces many ship repair demands required by ship environmental protection norms, mainly focusing on the installation of desulfurization tower and ballast water treatment system retrofitting. Therefore, in the past year, Xinya Shipbuilding, Zhoushan COSCO Shipping Heavy Industry and Longshan Shipyard have undertaken a lot of desulfurization tower installation and ballast water treatment system retrofitting business, ushering in the peak of ship repair.
Taixing Expansion Marine Equipment (EME) is the professional designer, manufacturer and exporter of mooring winch, positioning winch, towing winch, anchor winch, diesel winch, electric windlass, hydraulic windlass, diesel windlass, electric capstan, hydraulic capstan, pneumatic capstan etc. Our products are mainly for scientific research vessel, navy vessel, working barge, tug, cargo vessel, oil tanker, offshore platform etc.