From a record 13 ships in 2019 to not a single order in 2020, Fincantieri Group, the world's largest cruise ship builder, is undoubtedly one of the largest shipbuilders to suffer the impact of the new crown epidemic. Despite this, Fincantieri, which is holding nearly RMB 280 billion in new ship orders, remains "confident".
Not a single order! Full-year performance decline of a total of 7 cruise ships delivered
Fincantieri recently disclosed its full-year performance in 2020. Last year Fincantieri revenue of 5.191 billion euros, compared with 5.849 billion euros in 2019, a decline of 11%. This was mainly due to a loss of €1,055 million in revenue as a result of the epidemic that shut down shipyards and reduced Fincantieri's production time in all Italian regions by 20% compared to the original plan.
Fincantieri's EBITDA for 2020 was €314 million, down from €320 million in 2019. the EBITDA margin was 6.1%, up from 5.5% in 2019. Delays in the production schedule resulted in a shortfall in EBITDA of around €80 million. Full-year net loss of €245 million, further widening compared to -€148 million in 2019. Excluding costs related to the outbreak (€196 million) and claims related to asbestos (€52 million), the adjusted net loss was €42 million, an improvement compared to -€71 million in 2019.
It is worth noting that Fincantieri's EBITDA was 114 million euros in the fourth quarter of last year, up 40% compared to the third quarter. This is a positive trend for the Group.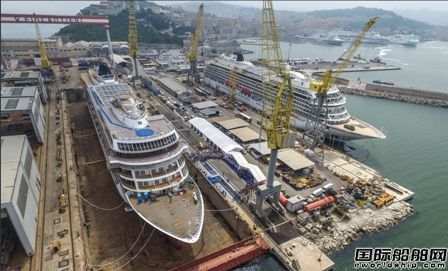 In particular, Fincantieri's shipbuilding business generated revenues of €5,226 million in 2020, down 11.8% year-on-year. The slowdown in production during this period led to a decrease in revenues of approximately €909 million. Compared to 2019, revenues from the cruise business fell by 9.6%, from €3,631 million to €3,281 million. Accounting for 57% of the Group's total revenues (compared to 58% in the same period last year), revenues from the Naval Vessels business fell by 16.8%, from €1,503 million to €1,250 million.
In 2020, shipbuilding business EBITDA was €285 million, down from €368 million in 2019, with an EBITDA margin of 6.3% for the full year last year, but slightly above the full-year level of 6.5% in the fourth quarter. Order intake in the shipbuilding business slipped to €3,716 million, well below the €8,098 million for 2019.
For the full year 2020, Fincantieri's 11 shipyards delivered a total of 19 new vessels, including seven cruise ships and four in the second half of the year.
In total, the Group received 18 new orders in 2020, including 2 for offshore wind farm operations, for a total value of €4,526 million, down from €8,692 million in 2019. It should be noted, however, that the Group received a record order for 13 cruise ships in 2019, compared to zero cruise orders last year.
Plenty of orders in hand, market recovery forecast for 2021
Giuseppe Bono, CEO of Fincantieri, said: "In 2020, the epidemic put severe pressure on the global economy and all industries endured painful effects, especially large companies. In this context, we have demonstrated our ability to respond quickly by rearranging production schedules and adjusting operational processes accordingly. The fourth quarter performance achieved a further improvement over the third quarter, with a total order book of €4.5 billion for the year and over €35 billion in hand, with delivery arrangements extending through 2029. We should therefore be proud of the Group's performance, which, thanks to our strong relationships with our customers, has resulted in the successful delivery of seven cruise ships and significant success in the naval ship sector, including the award of a historic contract for a US Navy frigate."
Fincantieri believes that 2020 will be an extraordinary year, but that 2021 will be the year in which the Group returns to growth.Fincantieri forecasts that in the absence of negative developments related to the outbreak and the currently unforeseen deterioration, the Group will return to its pre-outbreak growth levels in 2021, with revenues in 2021 expected to increase over 2020 by 25% to 30%.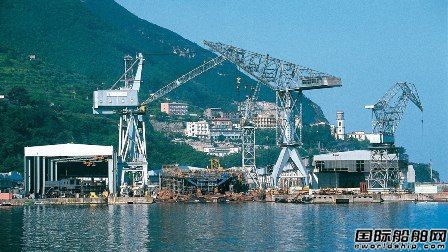 As of December 31, 2020, Fincantieri's handheld order book totals €35.7 billion (approximately RMB 277.7 billion) for 116 vessels, approximately 6.1 times the full year 2020 revenue. Of this amount, €27.8 billion represents confirmed handheld orders for 97 ships, in addition to €7.9 billion of alternative orders. Of the cruise/expedition mail ship handheld orders, a total of seven are scheduled for delivery in 2021, eight in 2022, nine in 2023, five in 2024, five in 2025 and four more after 2025.
In the shipbuilding business, Fincantieri expects full-year production in 2021 to be significantly higher than in 2020, as the shipyard has resumed full production and currently has a large number of orders in hand. Silver Dawn", "Viking Venus", "HAL Rotterdam", "MSC The Norwegian subsidiary VARD will also deliver two luxury cruise ships (Panglao Cruises' Le Commandant- Charcot" and "Hanseatic Spirit").
Bono said, "As long as we make progress in viral treatments and vaccines, we expect to grow by 25%, mainly from our large handheld order book, as well as from the continuous improvement of margins and turnaround."
Taixing Expansion Marine Equipment (EME) is the professional designer, manufacturer and exporter of mooring winch, positioning winch, towing winch, anchor winch, diesel winch, electric windlass, hydraulic windlass, diesel windlass, electric capstan, hydraulic capstan, pneumatic capstan etc. Our products are mainly for scientific research vessel, navy vessel, working barge, tug, cargo vessel, oil tanker, offshore platform etc.