The company's leadership was greatly encouraged by the "fantastic" start of the year with US$1.3 billion in orders in less than two months, and "strive to exceed the target of US$2 billion by 50% to reach US$3 billion in new orders! Ren Yuanlin, Honorary Chairman of Yangtze River Shipbuilding Group, once again "spoke out" and set a new "small target" for 2021 for the largest private shipbuilding group in China.
On February 23, Yangtze River Shipbuilding Group held the 2020 annual summary commendation meeting and the 2021 annual work conference, in which Ren Yuanlin, Ren Letian, Wang Jiansheng, Zhang Hongfei, Song Shuming, Du Chengzhong, Zhang Tao, Liu Feng, Ding Jianwen, Zhou Kewei and He Minghui, leaders of the group, attended.
The person in charge of technology center, market operation, New Yangzi Shipbuilding/Yanzi Xinfu Shipbuilding, Yangzi Mitsui Shipbuilding, finance cost, New Yangzi Shipbuilding Enterprise Management Center, Yangzi River Shipyard, Yangzi River Shipping Company/Shanghai Runyuan Ship Management Company, Huayuan Shipping Company, law firm, Yangzi Shengda and other departments and lines reported the work situation in 2020, combined with their own work priorities and existing Ltd., Huayuan Shipping Co.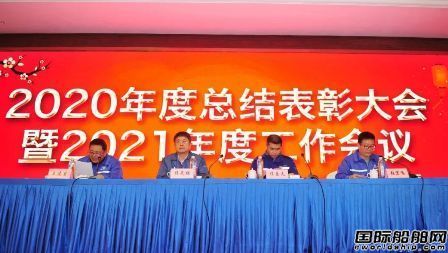 At the meeting, Ding Jianwen, Vice General Manager of Yangtze River Shipbuilding Group and General Manager of Group Finance Company, firstly made an analysis report on the economic operation of the Group in 2020, analyzing in detail and objectively the Group's main shipbuilding business, non-shipbuilding business and comprehensive operation of the Group in the whole year of 2020. The economic data showed that the whole Group's economic operation was sound, with the total amount maintaining growth and sufficient cash flow. The three major shipbuilding indicators, namely new orders received, orders in hand and completed shipbuilding output, continued to be among the top shipbuilding enterprises in China and the world; shipbuilding production efficiency, cycle time indicators, consumption of various quotas and cost control per ship were basically within the planned targets; the economic efficiency of the Group continued to rank among the top in the same industry in China, and all economic departments of the Group completed their annual economic efficiency targets better.
While affirming the work in 2020, the report also put forward the current problems and shortcomings, and made scientific suggestions for the work in 2021, emphasizing the premise of maintaining the production balance, suggesting to undertake high value-added vessels as far as possible and attaching great importance to the two key factors of exchange rate and steel price, which affect the economic efficiency of the Group.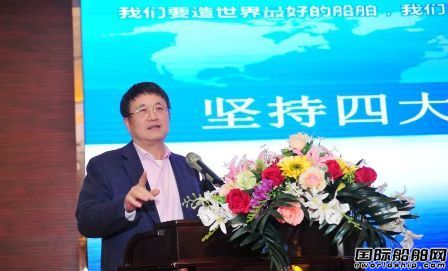 Ren Letian, Chairman and General Manager of Yangzijiang Shipbuilding, made a summary of the Group's work in 2020, summarizing the work achieved by the Group in the previous year from four aspects: "competing for quality orders in innovative mode, organizing lean production in precise prevention and control, enhancing R&D capability in unity and collaboration, and stimulating management kinetic energy in science and innovation leadership". Highlights. He pointed out that in 2020, the number of new orders received by Yangtze River Shipping Group accounted for 9.5% of the national new ship orders, and the deadweight tonnage of handheld orders accounted for 7.7% of the national handheld ship orders, which is an outstanding achievement. We have made great progress in cost and consumption reduction, management innovation, team PK and technical progress.
At the end of the conference, Ren Yuanlin, Honorary Chairman of Yangzijiang Shipbuilding Group, made a concluding speech. He pointed out that the group will continue to develop around the direction of "one main industry, four supports and two strengthens", and position 2021 as the year of "innovation", the annual work will focus on four innovations to show, namely, innovative technology research and development to form product characteristics; innovative marketing mode to achieve The year's work will focus on four innovations, namely, innovation in technology research and development to form product characteristics; innovation in marketing mode to achieve order targets; innovation in production organization to improve lean management; and innovation in legal affairs and risk control to reduce bad debt.
Ren Yuanlin said that in 2021, Yangtze River Shipbuilding Group will strive to achieve the following ten goals: new orders received will exceed the target of US$2 billion by 50% to reach US$3 billion; scientific and technological innovation will have new results; the major nodes of start-up, stage, launch and delivery of ships will be completed on schedule and with quality, and Yangtze River Shipbuilding will continue to maintain its reputation of never being off schedule; the annual profit and tax will continue to exceed US$5 billion. Benefit target; Yangzi Changbo base starts the transformation of shipbuilding and construction of large steel structure base; second-hand ship semi-finished ship business expansion is effective; Jiangyin Lingang LNG industrial park project construction has a breakthrough; resolving non-performing and litigation loss reduction achieve annual target; expand investment and financial management channels to make new highlights of stock asset disposal; fulfill social responsibility and actively participate in local economic construction.
According to the international ship network, Yangtze River Shipping Group set the target of receiving orders this year at 2 billion U.S. dollars, which is higher than the amount of 1.77 billion U.S. dollars received in the whole year of last year. It is worth mentioning that in the first two months of this year, Yangtze River Shipbuilding Group has undertaken 29 new ship orders totaling USD 1.3 billion, which has completed 65% of the USD 2 billion target, and has also completed 43% compared with the USD 3 billion target that the group strives to overachieve.
The spring breeze has beaten the war drums, the New Year has sounded the trumpet, the new goal has opened a new journey, and Yangtze River Shipbuilding has brightened its full ambition after the start of construction.
Taixing Expansion Marine Equipment (EME) is the professional designer, manufacturer and exporter of mooring winch, positioning winch, towing winch, anchor winch, diesel winch, electric windlass, hydraulic windlass, diesel windlass, electric capstan, hydraulic capstan, pneumatic capstan etc. Our products are mainly for scientific research vessel, navy vessel, working barge, tug, cargo vessel, oil tanker, offshore platform etc.