With the shipping market situation is good, Taiwan shipping companies are accelerating to buy ships and shipbuilding expansion fleet.
Data show that the current value of Taiwan shipowners handheld orders has exceeded $ 7 billion, including the number of own ships under construction and long-term charter vessels totaling 119, a record high. In addition, there are dozens of intentional orders are being negotiated, if all these orders come into effect, the number of new ships will exceed 150, with a total investment of more than 10 billion U.S. dollars, which will also become the largest shipbuilding program in the history of Taiwan.
Among the container shipping companies, Evergreen Marine ranked first in terms of self-booked vessels and long charters, with a total of 46 vessels and a total order price of about 6.096 billion U.S. dollars, while Evergreen Marine has 20 orders for 15,000 TEU container ships under negotiation. The second-ranked Wanhai Shipping Company has 24 orders in hand, with a total order price of about $829 million. Yang Ming Marine ranked third, holding orders for 10 ships, with a total ship price of about $843 million, and 4 ships under negotiation. Dexiang Marine ranked fourth, with orders for 6 vessels and a total ship price of about USD150 million.
Among the bulk carriers, Huiyang Shipping has the largest number of orders in hand, with 16 new ships under construction and a total ship price of about US$438 million. Yumin Shipping has 8 new ships under construction with a total ship price of about USD 261 million, and Yumin Shipping is still negotiating new orders and may order new ships at any time. Taiwan Shipping has 5 ships in hand, with total ship price of about 115 million dollars, and plans to order new ships in the second half of the year.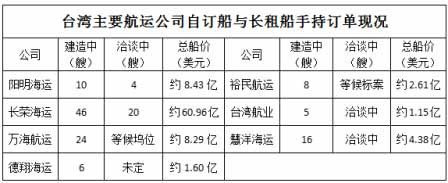 In addition to shipping companies, shipping agency business started in recent years, the Taiwan Shibang International Group also use the low price of the ship to order four container ships and a general cargo ship, and the new ships under construction to finalize a long-term charter contract. In recent years in March, the world state international will have a 1100TEU container ship delivery operation, is expected in the near future the company will order 1800-2000TEU class container ship, continue to diversify development.
Industry analysis believes that the ocean shipping company ocean line 5000 to 8000 TEU class container ships because of the age of the ship, high unit costs, affecting the competitiveness of the market, the relevant shipping companies originally had the need to update the fleet. In the second half of last year, the container shipping market prices soared, the container shipping company profits increased greatly, cash in hand, have increased the order to build new ships or purchase used ships.
On the other hand, in recent years, the new shipbuilding market continues to be depressed, new shipbuilding prices are also maintained at a low level. Although since this year due to the steel price rise, shipyard offer also correspondingly increased, for example, Yu Min Shipping at the end of January in the North Shipbuilding Heavy Industries order for 2 +2 ship 210,000 tons of bulk carrier orders, each ship cost is rumored to have increased by $ 2 million; However, the current price level is still only 50% to 70% of the high period in 2008, shipping companies are still able to use the low price of ships to update and expand the fleet.
Prompted by shipping companies to accelerate the booking of another factor is increasingly stringent environmental regulations. The International Maritime Organization (IMO) in May or June this year may adopt the existing ship energy efficiency index (Energy Efficiency Existing Ship Index), and from January 2023 to implement. At that time, non-compliant ships need to replace the main engine, or by slowing down navigation to achieve the effect of emission reduction, shipping companies also need to gradually invest in the construction of new energy-efficient ships to meet environmental regulations.
Taixing Expansion Marine Equipment (EME) is the professional designer, manufacturer and exporter of mooring winch, positioning winch, towing winch, anchor winch, diesel winch, electric windlass, hydraulic windlass, diesel windlass, electric capstan, hydraulic capstan, pneumatic capstan etc. Our products are mainly for scientific research vessel, navy vessel, working barge, tug, cargo vessel, oil tanker, offshore platform etc.