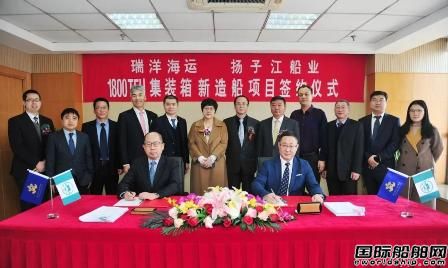 New year, new weather! Recently, Yangtze River Shipping's new order situation for container ships is promising. After the finalization of ten 4600TEU container ships of Cereal Flow, Rui Yang Shipping placed an order for eight 1800TEU feeder container ships in Yangtze River Shipping, which is also the first formal order for container ships signed by Yangtze River Shipping Group in 2021.
The signing of the new order was witnessed by Mr. Wen Wentao, Chairman of Ruiyang Shipping, Mr. Ren Letian, Chairman of Yangzijiang Shipping Group, Mr. Sun Xingtao, Chairman of Haixing Shipping and representatives from Shanghai Ship Research and Design Institute and American Classification Society. Mr. Wen Hai, Director of Ruiyang Shipping, and Mr. Zhang Tao, Vice General Manager of Yangtze River Shipping Group, signed the new shipbuilding contract document on behalf of both parties.
It is reported that the 1,800 TEU container vessels are scheduled to be delivered in 2022-2023. Although Yangtze River Shipping Group did not announce the specific price of the order, but according to the previous news, the cost of each ship is about 23 million U.S. dollars, the contract also contains an additional four ships alternative orders. The total cost of 12 container ships is about $276 million (about RMB 1.786 billion).
It is understood that Ruiyang Marine had previously acquired one 1,800 TEU container ship resale vessel from Yangzijiang Shipping Group, which was originally one of nine feeder container ships ordered by British shipowner Lomar Shipping in Yangzijiang Shipping between 2016 and 2017. The vessel was resold in December last year for $23 million and delivered to Ruiyang Shipping in January this year under the name of "A Fuji", according to Clarkson.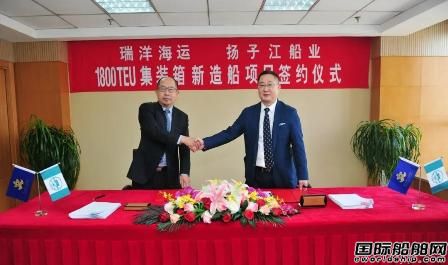 A Fuji" is the first cooperation between Yangtze River Shipping Group and Ruiyang Shipping, and both parties expressed their expectation to take this delivery as an opportunity to establish a more long-term friendly cooperation.
It is understood that Ruiyang Shipping has a first-class container fleet in the Asian regional routes, mainly operating container liner shipping business, shipping agency business, as well as shipping-related auxiliary business in the China-Japan route. At present, Ruiyang Shipping has established regular services connecting Chinese ports (Dalian, Tianjin Xingang, Qingdao, Lianyungang, Weihai, Shanghai) and Japanese ports (Tokyo, Yokohama, Nagoya, Osaka, Kobe, Moji, Hakata), and is developing a variety of services to meet customer needs. Official website data shows that the company operates 13 feeder container vessels.
In addition to the order from Ruiyang Marine, orders for 10 4,600 TEU containerships from Yangzijiang Shipping and Cargolux have been finalized. Cargolux disclosed in January a plan to build a total of 18 4,600 TEU container vessels worth 4.5 billion yuan, and the latest news said the first 10 will be built by Yangtze River Shipping, with each new vessel expected to cost about $35 million and the total price of 10 vessels at $350 million (about RMB 2.261 billion).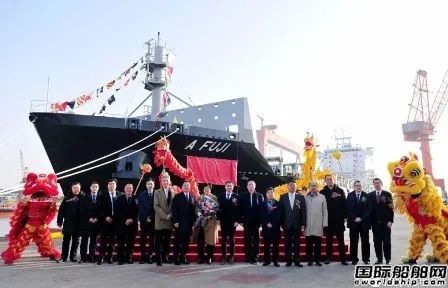 In addition, in January this year, Yangzi Mitsui Shipbuilding, a Sino-Japanese joint venture shipyard of Yangzijiang Shipbuilding, also received an order for four 66,000 dwt bulk carriers from Bangladeshi shipowner Meghna Group. The vessels are based on the design of Mitsui E&S Shipbuilding in Japan and are being built at Yangzi Mitsui Shipbuilding. This is the first time for Yangzi Mitsui Shipbuilding to build a bulk carrier designed by Mitsui E&S Shipbuilding.
Taixing Expansion Marine Equipment (EME) is the professional designer, manufacturer and exporter of mooring winch, positioning winch, towing winch, anchor winch, diesel winch, electric windlass, hydraulic windlass, diesel windlass, electric capstan, hydraulic capstan, pneumatic capstan etc. Our products are mainly for scientific research vessel, navy vessel, working barge, tug, cargo vessel, oil tanker, offshore platform etc.