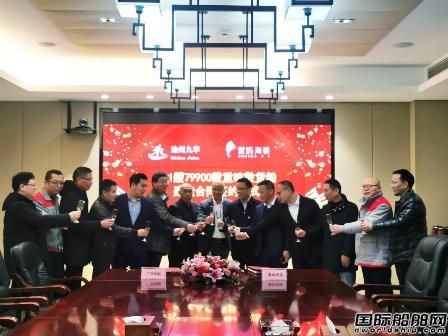 On January 20, 2021, Nantong Xiangyu Marine Equipment Co., Ltd. signed a contract for the construction of 1+1 79900DWT bulk carriers with Ningbo Juhe Logistics Co.
Sun Hongwan, Chairman and Wu Qiang, General Manager of Zhejiang Ningbo Juhe; Wang Guonian, Chairman of Anhui Chizhou Jihua; Lin Yituan, Chairman and Shi Qiaofeng, Vice Chairman of Guangxi Fangchenggang Jinhang; Xun Zhenglai, Director of Tianhai Defense, Han Xu, Vice General Manager of Yiqiao Asset Management Co., Ltd, Gao Shengjie, Vice General Manager of Xiamen Xiangyu Financial Leasing Co., Ltd, Qin Weimin, General Manager of Xiangyu Seawear, Yan Yong, Chief Engineer and Yang Junsheng, Marketing Director attended the signing ceremony together.
The 79900DWT bulk carrier jointly developed by Xiangyu Seafarer and Shanghai Jiahao Design Company will be the leading domestic bulk carrier and the largest one in the domestic trade.
The length of this type is about 209.9m, width is 36m, depth is 19.3m, design draft is 13.6m, and it is classified by China Classification Society. The main engine is MAN 6S50ME-C9.7, with a crew of 23 and 5 large cargo holds.
In 2020, under the influence of the global new crown pneumonia epidemic, the foreign trade market of the shipbuilding industry was dismal. Faced with the huge market pressure of low demand for new ships, continuous low price of new ships and the downward trend of the whole segment market, Xiangyu Sea Wear made an in-depth study of the market situation, guided by the industrial development policy of Xiangyu Group, actively promoted the linkage with Xiamen Xiangyu Financial Holding Group and Xiangyu Financial Leasing, aimed at the domestic and The contract of this new ship order was signed, and the call of the state to "form a new development pattern with the main domestic cycle and the domestic and international cycles promoting each other" was practiced with practical actions, which added momentum and vitality to the local economic development.