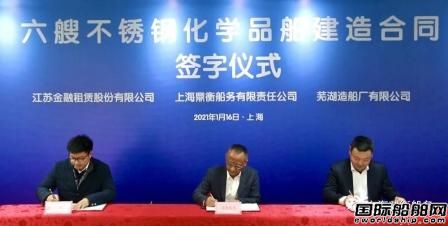 On January 16, 2021, Wuhu Shipyard Co., Ltd, Shanghai Dingheng Shipping Co., Ltd and Jiangsu Financial Leasing Co. The signing ceremony marked the speeding up of Dingheng's "Hundred Ships Plan" to be completed by 2028, and opened a new chapter of intelligent and green shipping at the same time.
The 6 chemical tankers signed this time, 5 of which are 6,600 tons diesel-powered, DC electric push chemical tankers, will be designed to realize intelligent cabin, intelligent energy efficiency management, intelligent cargo system, intelligent navigation and intelligent data integration platform, which will reduce fuel consumption by more than 15% compared with the same type of ships, and reduce ship manning by about 35%, which will significantly reduce the operating cost of ships and further enhance the profitability of Dingheng Shipping. Another 9,000-ton stainless steel chemical tanker was approved as a demonstration project of the Ministry of Industry and Information Technology for the development of hybrid power system for ocean-going transport vessels, which injected strong spiritual power and much-needed financial support for Dingheng to achieve the goal of 100-ship plan in an intelligent and green way.
It is reported that one of the five 6,600-ton chemical vessels is built by a specific investor, and Dingheng is the project manager to provide comprehensive services including design, supervision, management and operation. In order to ensure the interests of the investor are maximized, blockchain technology is used to design "financial credible" and "security credible" management software for the whole process from design and construction to operation and management of the vessel, so that the investor can grasp the profitability and safety of the vessel through cell phone APP. At the same time, considering that the blockchain architecture is designed in accordance with relevant national regulations, we plan to upload the chain in due course to realize the securitization of ship assets, and investors can trade at a premium in the open market. This is also a bold attempt by Dingheng to empower shipping with blockchain technology, exploring a brand new solution to the century-old problem of third-party ship operation/management, government and customer safety supervision, and ship financing.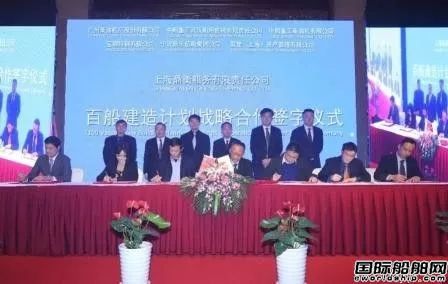 Based on the analysis and judgment of the market, combined with the experience and advantages formed in the field of chemical vessel ship management and construction over the years, Shanghai Dingheng Shipping officially launched the strategy of "Hundred Vessel Construction Plan" in 2017. Over 100 small and medium-sized stainless steel chemical vessels (2,000-15,000 DWT) will be built not only to expand its own fleet, but also to provide the most cost-effective stainless steel chemical vessels to chemical ship owners and investors worldwide. At the same time, Dingheng Group said that it will realize the high cost performance of the products and form an absolute competitive advantage globally through design optimization, reasonable equipment configuration and scale effect, which will enable it to sell and realize at any time according to the need, so as to ensure the long-term sustainability of the subsequent ship construction.
On October 20, 2017, Shanghai Dingheng Shipping signed a 10-year bareboat charter agreement with Ningbo Xinle Shipbuilding Group for six chemical vessels, including three 7,500-ton coated vessels, one 16,500-ton coated vessel and two 13,200-ton newbuilding stainless steel chemical vessels. The two sides also signed a contract for the construction of 10 9,000-ton stainless steel chemical vessels and reached preliminary intentions for the construction of 10 6,000-ton stainless steel chemical vessels.
On December 25, 2017, the 8,500 dwt stainless steel chemical vessel "DH ADMIRAL" built by Nantong Tongbao Shipbuilding completed sea trial, which is the first of six stainless steel chemical vessels built by Shanghai Dingheng Shipping in cooperation with Xiamen Xiangyu Group and Nantong Tongbao Shipbuilding Co.
In July 2018, Dingheng Shipping signed a three-year time charter agreement with Seatrans, a Norwegian chemical tanker carrier, for Dingheng Shipping's 13,000-ton stainless steel chemical vessel "Dingheng New Era". This time charter agreement creates the necessary conditions to accelerate the process of "100 Ships Plan". The signing of this agreement marks the basic establishment of the target market of "Hundred Vessels Plan" of Dingheng Shipping, which is a landmark event.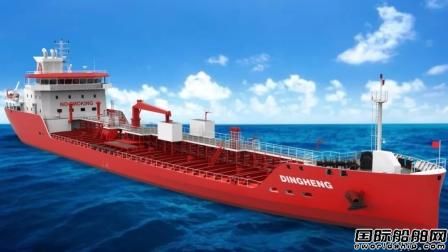 Wuhu Shipyard, with its exquisite technology and rich shipbuilding experience in building high-end chemical vessels, has built a 6600-ton stainless steel chemical vessel series based on Dingheng's "Hundred Ships Plan". This series of vessels has excellent features such as high degree of automation, intelligence, energy saving and environmental protection, as well as many functional highlights such as good cargo suitability and high degree of localization; it realizes intelligent navigation, intelligent cabin, intelligent energy efficiency, intelligent cargo operation and intelligent information integration platform; it saves at least 15% fuel consumption and reduces vessel crew by about 35% compared with similar vessels under the same navigation.
In recent years, Wuhu Shipyard Co., Ltd. has been actively promoting transformation and upgrading, carefully laying out core products, plowing deep into the liquid cargo ship market, deepening shipbuilding transfer mode, and successfully entering into the high-end chemical ship market with reasonable construction period and first-class product quality, successively undertaking the construction of 28000 tons chemical ship, 22000 tons hybrid chemical ship series, 21100 cubic meters/211500 tons asphalt/product oil ship and other high-end ships.
Ltd. has signed orders for engineering equipment, 21,500-ton asphalt tanker and 6,600-ton stainless steel chemical tanker one after another in nearly half a month, which is a good start to the New Year. At present, the company is aiming at "receiving and building well", delivering products to shipowners on schedule and with high quality, adhering to the general keynote of "seeking changes in stability and solving pain points", deepening transformation and upgrading, optimizing mechanism, cultivating balanced production, improving quality and efficiency, and pushing forward orderly. We will advance from single manufacturing to R&D+manufacturing shipbuilding enterprise, and continue to write a new glory of Wushun for a century.