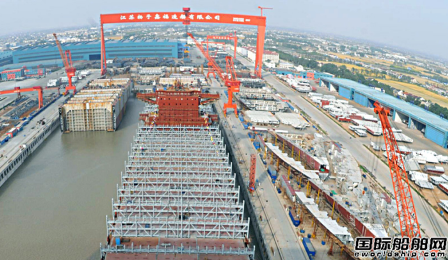 Yangtze River Shipping Group received for the first time two of the world's largest 24000TEU ultra-large container ship construction contracts, and also became China's first private shipping company to build ultra-large container ships of more than 20,000 containers.
On December 28, Yangtze River Shipping Group signed a contract for the construction of two 24,000 TEU ultra-large container ships. Yangtze River Shipping Group said, 24000TEU class container ship is based on the customer's operational needs, customized research and development of the world's largest load capacity, the largest container volume of the new generation of ultra-large container ship type. Through the comprehensive optimization design of the vessel, the cargo carrying efficiency and fuel efficiency of the vessel are improved, featuring flexible cargo carrying, large container capacity and large number of cold containers. High-performance main engine, high-efficiency propeller and energy-saving devices are adopted to achieve comprehensive energy consumption reduction. The system is optimized, and the operation and maintenance costs are effectively controlled. The comprehensive economic index of the vessel is greatly improved, and it is also equipped with upgraded fire-fighting measures to enhance cargo safety. In addition, the vessel is equipped with hybrid desulfurization tower, using traditional fuel oil, meeting the global sulfur emission limit requirements, unlimited navigation area, and the vessel type meets the latest EEDI Stage III index.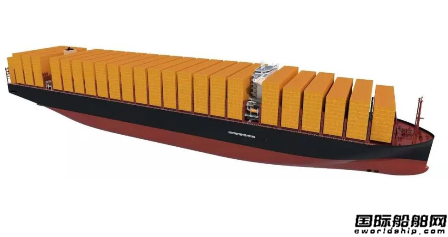 Up to now, Yangtze River Shipping Group has delivered more than 40 container ships of over 10,000 containers. The latest order will be the largest container ship with the largest container volume and the largest deadweight tonnage in the history of Yangtze River Shipping Group, with a total of 24,232 containers. Yangtze River Shipping will thus become the first private shipbuilding enterprise in China to build 24000TEU ultra-large container ships.
Prior to this, the largest container ship order that Yangzijiang Shipbuilding received was the order for 2+8 14000TEU dual-fuel container ships ordered by Tiger Group, a Hong Kong-based shipbuilding investment company, earlier this year. This order recognizes Yangzijiang Shipbuilding Group's ability to build large LNG-powered complex ships and marks Yangzijiang Shipbuilding as the third shipyard in China to build LNG-powered large container ships after state-owned shipbuilders Jiangnan Shipbuilding and Hudong-Zhonghua.
With the growth of transportation demand, the improvement of shipbuilding technology and the consideration of scale effect and unit transportation cost by liner companies, the trend of ship enlargement has become obvious in recent years, and the possession of ultra-large container ships has become the standard for top liner companies. Yangtze River Shipping Group has always taken "container ship branding" as an important management idea to make the main shipbuilding industry stronger, better and more precise. The project will further consolidate the market position of Yangtze River Shipping Group in the field of ultra-large container ship construction and enhance the brand effect of the Group.
According to speculation, Yangtze River Shipping Group's order may come from the world's second largest container shipping company Mediterranean Shipping. Previously, it was reported that Mediterranean Shipping has selected Hudong-Zhonghua, Jiangnan Shipbuilding and a private shipyard of China Shipbuilding Group to build two 23,000 TEU container ships equipped with desulfurization devices respectively. The new vessels are scheduled for delivery starting in 2023 and will cost about $145 million to $150 million each. A number of Chinese financial leasing companies, including CBC Leasing, will finance the new vessels.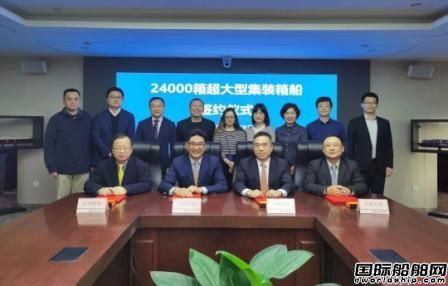 On December 28, China Shipbuilding Group's China Shipbuilding Trading, together with Hudong-Zhonghua and Jiangnan Shipbuilding, has signed a contract with BOF Leasing for the construction of four 24,000 TEU ultra-large container ships. The project will be built by Hudong-Zhonghua and Jiangnan Shipbuilding each 2 ships, the ship type by Hudong-Zhonghua independent research and development design.
Mediterranean Shipping has previously been "preferred" Korean shipping companies, Mediterranean Shipping last year in Daewoo Shipbuilding ordered five 23000TEU container ships, each costing about 152 million U.S. dollars, scheduled for delivery in 2021, also equipped with desulfurization devices. Last July, Samsung Heavy Industries was the first to deliver the world's first 23,000 TEU class ultra-large container ship, the MSC Gulsun, for MSC.
Including the latest order, this year, Chinese shipping companies have received as many as 18 ultra-large container ships more than 20,000 containers, becoming the biggest winner in the field of ultra-large container ship construction this year. In addition to Yangtze River Shipping and China Shipbuilding Group's six, this year, Nantong COSCO Shipping Kawasaki and Dalian COSCO Shipping Kawasaki also received a total of 12 23,000 TEU container ship orders from OOCL, the first time into the 23,000 TEU ultra-large container ship construction camp.
Since the second half of this year, the performance of the big increase in the container shipping companies have returned to the newbuilding market. Recently Hapag-Lloyd has ordered six 23000TEU dual-fuel container ships in Daewoo Shipbuilding, Japan Ocean Netlink Shipping (ONE) will also be in Imabari Shipbuilding and Japan Shipbuilding United (JMU) ordered six 24000TEU container ships. The industry predicts that by the first half of next year, the field of large container ships will usher in about 100 orders, with the arrival of a new round of "order wave", the future of China and South Korea will be in the field of this type of ship to start full competition.