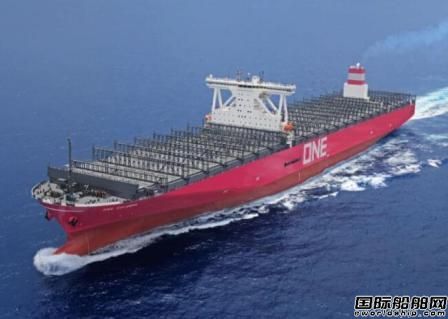 Following Hapag-Lloyd, Japan's Ocean Netlink Shipping (ONE) has also finalized an order for six 24,000 TEU ultra-large containerships, to be built by two major Japanese shipping companies in conjunction.
On December 24, ONE announced that it signed a time charter contract with Japan's Shoei Kisen Kaisha for six 24,000 TEU container ships, the world's largest, for 15 years. The six new vessels will be built in cooperation with Imabari Shipbuilding and Japan Shipbuilding Union (JMU) and are scheduled for delivery from 2023 to 2024.
The new vessels will join ONE's core fleet as part of the company's ongoing strategy to introduce large, modern and energy-efficient vessels, further strengthening the competitiveness of its fleet, ONE said.
According to ONE, each of the six ultra-large container ships will carry more than 24,000 TEU, while the world's largest ultra-large container ships currently carry slightly less than 24,000 TEU, making the new vessels the largest container ships in the world.
While maximizing cargo volume, the new vessels will also adopt advanced vessel designs that minimize fuel consumption, achieving economies of scale and significantly reducing CO2 emissions. In addition, in order to meet the requirements of IMO 2020, the new vessel will be equipped with desulfurization equipment.
It is worth mentioning that just the day before, Hapag-Lloyd, another shipping company belonging to THE Alliance with ONE, also announced an order for six 23,500+ TEU dual-fuel container vessels to be built by Daewoo Shipbuilding in South Korea at a total cost of nearly $1 billion.
ONE and Hapag-Lloyd both announced earlier this year that they would order six 23,000 TEU class ultra-large container ships, and then shelved the construction plan because of the epidemic. With the second half of the container shipping market continues to improve, container shipping company performance, ONE and Hapag-Lloyd also returned to the newbuilding market.
It is understood that ONE is a container shipping company established by the three major Japanese shipping companies Nippon Yusen, merchant marine Mitsui and Kawasaki Kisen Kaisha to integrate the container ship business. alphaliner's data show that the current ONE fleet size of 218 1.58 million TEU, including 71 own ships and 147 chartered ships, capacity ranked sixth in the world.
ONE's new ship order is also the first time this year the Japanese shipbuilding industry to undertake ultra-large container ships, for this year has been facing order depletion difficulties of the Japanese shipbuilding industry is undoubtedly a big victory. According to the Japan Ship Exporters Association (JSEA) data, the first 11 months of this year, Japanese shipbuilders received orders fell 21.6% year-on-year, as of the end of November, the amount of orders in hand only 14.03 million GT, the 20th consecutive month of a downward trend, has fallen to the lowest level in the past 20 years.