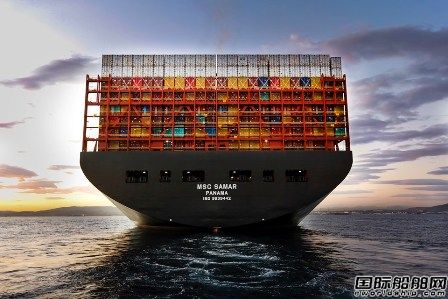 Faced with the "aggressive marketing" of Korean shipping companies, Mediterranean shipping eventually handed over orders totalling $900 million TEU 6 23000 super-large container ships to three Chinese shipping companies.
According to foreign media, Mediterranean Shipping, the world's second largest shipping company, has chosen China Shipbuilding Group's Hudong China, Jiangnan Shipbuilding and a private shipyard, three shipyards will each build two 23000 TEU container ships equipped with desulphurization units. New ships are scheduled to be delivered from 2023, costing about $145 million to $150 million each.
Mediterranean shipping initially announced in October that it would order TEU 23000 super-large ships and seek financing from Chinese financial institutions. Some Chinese financial leasing companies, including the Bank of Communications lease, are said to be funding the new ships.
Mediterranean shipping had previously "favoured" South Korean shipping companies, Five 23000 container ships were built last year by Mediterranean shipping TEU Daewoo, Each cost about $152 million, Planned to be delivered in 2021, Also equipped with desulphurization device. Last July, Samsung has taken the lead in delivering the world's first 23000 class TEU super-large container ship —— the "MSC Gulsun"" built for Mediterranean shipping.
If the order is finalized, it will be the first time that private Chinese shipping companies have built TEU 23000 super-large container ships. Before that, China had received 23000 TEU container ships all state-owned shipping companies.
Hudong China and Jiangnan Shipbuilding, on the other hand, have rich experience in the construction of 23000 TEU super-large ships. The two shipyards received 9 LNG power 23000 TEU orders in 2017 and 4 of the 10 23000 orders in 2019.
Since the second half of this year, more and more shipping companies have returned to the new shipbuilding market as rising freight rates have brought strong returns to shipping companies. Herberot resumed the first half-yearly shelved plan, reportedly signed this month with South Korea's Daewoo Shipbuilding Construction contracts for six TEU 23,000 dual-fuel super-large container ships at a cost of only $165 million each.
South Korean media said that in order to compete for orders, South Korean shipping companies have launched "aggressive marketing ", constantly reduce shipbuilding quotes, in the high-end shipping market and China" shopping ". In the battle for orders for the Herborot super-large container ship, Daewoo Shipbuilding offered lower prices per round than China's Hudong China and Jiangnan Shipbuilding, and eventually stole the order.
In recent years, the market share of Chinese shipping enterprises in the field of super-large container ships has been increasing. This year, OOCL ordered a total of 12 23000 TEU ships in Nantong Cosco Shipping Kawasaki and Dalian Cosco Shipping Kawasaki, marking the construction camp TEU 23000 super-large container ships and two new Chinese shipping companies. As the container ship market will usher in a new round of "order tide ", China and South Korea will be in the future in this ship-type field of full competition.