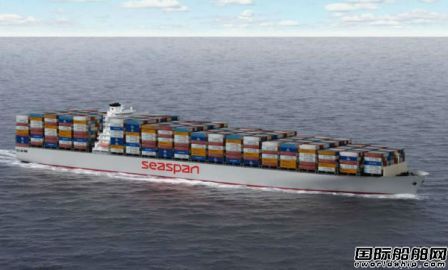 The world's largest independent container ship owner Seaspan Corporation ordered five 12200 TEU container ships.
Seaspan announced on 7 December that five new ships would be built and a long-term charter contract with a leading global shipping company would be implemented after delivery. In addition, after the expiration of the charter party, the charterer will also bear the purchase obligation. However, the Seaspan did not publish specific information on the price and delivery time of the ship, nor did it disclose which shipyard would book the ship.
Seaspan said the five new 12200 TEU container ships will be financed through additional borrowing and cash on hand, a transaction that is expected to increase contract cash flow by about $910 million during the lease period.
Seaspan is the first new shipbuilding project in nearly 10 years. Seaspan last large-scale booking was in 2011, when Seaspan signed 25 10000 container ship construction contracts with Yangzijiang Shipping Group, which was the largest single in the history TEU Chinese shipbuilding. It broke South Korea's long-standing monopoly in the field of super-large container ships.
Yangzijiang Shipping Group delivered Seaspan first 10000 TEU container ships in March 2014, becoming the first private shipbuilding company in the country to build and deliver 10,000 boxes of ships. The whole construction project lasted nearly seven years and completed the last ten thousand cases of ship delivery in May 2018.
"With our rigorous capital allocation, innovative customer partnership and quality growth strategy, we are pleased to announce a long-term charter of five 12200 new container ships with TEU long-term client ," said Seaspan president and CEO Chen Bing. Implementing a cautious new shipbuilding opportunity to meet customer needs and achieve targeted returns is a win-win outcome. Together with our valued customers, we are able to develop mutually beneficial business solutions while adding high value ships to our fleet and expanding our contract revenue base. The deal proves that we use our scale and first-class integrated service platform to provide innovative solutions ."
Seaspan is understood to be an independent container ship owner and operator, with industry-leading ship management services, mainly based on the principle of long-term, fixed rates, regular chartering for the world's largest shipping company to provide chartering services. So far, the Seaspan fleet includes 127 container ships with a total capacity of 1.073 million TEU, contract revenue of $4.1 billion. Seaspan average age of the fleet is about 7 years, and the average remaining lease period is about 4 years.