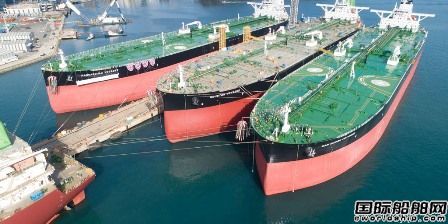 Private petrochemical giant Rongsheng Petrochemical's first 10 VLCC orders are about to be finalized, China Shipping Group's two shipyards will share the 5.5 billion yuan worth of order.
Shipbuilding leasing is about to place orders for up to 10 VLCC at two shipyards VLCC, Big Shipbuilding Group and Waigaoqiao Shipbuilding, according to trade winds 3 VLCC orders, scheduled to start delivery in 2022. Based on the current VLCC of about $85 million, the total value of the order will reach $850 million (5.554 billion yuan).
As a private chemical fiber giant, Zhejiang Rongsheng Holdings Group signed a strategic cooperation framework agreement and a joint venture cooperation agreement with China Shipbuilding Group in early November, which will be VLCC. by China Shipbuilding Leasing and Rongsheng Trading Company.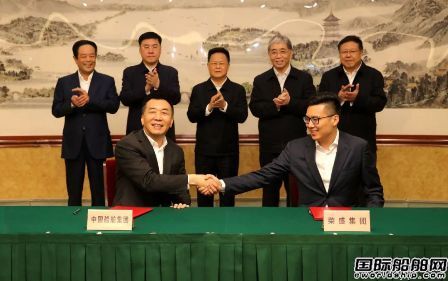 Under the terms of the agreement, the two sides will conduct joint venture cooperation in new crude oil transportation business.China Ship Leasing, relying on China Shipbuilding Group's strong scientific research and manufacturing capabilities, will give full play to the unique advantages of shipyards and leasing enterprises.China Shipbuilding Group, together with Rongsheng Group, will create a new mode of cooperation between upstream and downstream of the industrial chain, jointly set up a joint venture in bulk VLCC, build a larger VLCC fleet, provide a stable, efficient and reliable supply chain for Rongsheng Group to speed up the completion and commissioning of Zhejiang Petrochemical Project, fully guarantee national energy security, and continuously consolidate and enhance China Shipbuilding Group's world leading position in VLCC construction, For China Shipping Group to build a world-class ship group to provide a strong support.
According to the International Shipbuilding Network, Rongsheng Petrochemical plans to set up a super-large tanker fleet to transport crude oil from the Middle East to its Zhoushan Green Petrochemical Base in Ningbo. Considering that Zhoushan Green Petrochemical Base will build three 20 million t / a refining and chemical integration projects, Rongsheng Petrochemical will need about 30 VLCC to transport crude oil imported from the Middle East.
It is understood that Rongsheng Petrochemical was founded in 1989, is the leading domestic chemical fiber industry enterprises, the implementation of the "vertical and horizontal" two-way development strategy, constantly upward, downstream extension of the industrial chain. At present, Zhejiang Petrochemical Co., Ltd., which holds 51% of Rongsheng Petrochemical Company, is building 40 million tons per year integrated refinery and chemical project in Zhejiang Zhoushan Yushan Island Green Petrochemical Base. The total investment of the project is estimated to be 173 billion yuan, which is the largest single industry project in the world and the largest investment scale of private enterprises in China.
According to the plan, the project will be divided into two phases to build two sets of 20 million tons / year crude oil processing ,1.4 million tons / year ethylene and 5.2 million tons / year aromatics as the main refining and chemical integration plant. The first phase of the total investment of $9.015 billion, has been put into production in 2019, profitability gradually emerged; at present, the second phase of the project has entered the field implementation phase, planned to start trial operation in the fourth quarter of 2020.
After putting into production, it will form a total production capacity of 40 million tons / year crude oil processing ,2.8 million tons / year ethylene and 10.4 million tons / year aromatics, and become the fifth largest refinery in the world. In addition, Ningbo Zhoushan Petrochemical Base also has a third phase of 20 million tons of refining and chemical integration project is in the planning. Once the third phase of the project is completed, the company's annual output of petrochemical products will reach 60 million tons.
It is reported that Rongsheng Petrochemical realized operating income of 50.28 billion yuan in the first half of the year, an increase of 27.3 yuan over the same period last year, and realized a net profit of 3.21 billion yuan, a significant increase of 206.6 yuan over the same period last year. According to institutional expectations, Rongsheng Petrochemical 2020 performance is expected to reach 7 billion yuan.
Rongsheng Petrochemical said the company's year-on-year performance growth was significant, mainly because of the holding subsidiary Zhejiang Petrochemical Co., Ltd .40 million tons of refining and chemical integration project. On the one hand, the project will help the company to construct an integrated industrial chain of "crude oil-arene (PX), olefin-polyester-spinning-loading ", realize high quality and high efficiency large-scale production, reduce product cost, further enhance the profitability of the company, enhance the company's overall strength and risk resistance, and achieve leapfrog development. On the other hand, it will improve China's voice in aromatics and ethylene industry to some extent, promote the production, processing and sale of chemical products in the middle and lower reaches, and realize the economic and social benefits of the company.