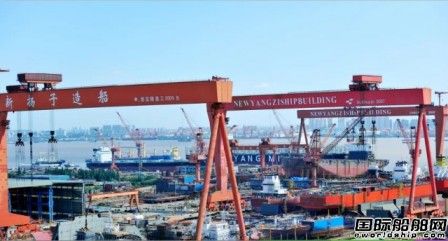 Yangzi River Shipping Group finally ushered in the harvest season. After 10 regional container ships owned by Japanese shipowners in early November, Yangzijiang Shipping Group received nine more container ships and bulk carriers, with orders reaching $1.26 billion this year, more than last year's total.
30 November, Yangzijiang Shipping Group announced that, Construction contracts totalling $226 million were signed with a number of clients, Nine ships will be constructed and delivered, including 4 2400 TEU container ships ,1 2700 TEU container ships ,2 1800 TEU container ships and 2 59000 dwt bulk carriers.
Of these ,7 branch container ships are from old customers —— Haifeng International, including 2 1800 TEU container ships to confirm the entry into force of the optional order, as well as the new construction of 5 additional ships.
According to an announcement issued on the same day by Haifeng International, two TEU 1800 container ships were signed by Haifeng International in August with Yangzijiang Shipping Group Alternative orders for 6 container ship construction contracts. The six alternative ships are confirmed in three parts, two at a time, and the first two ships, each costing $42 million, will be delivered in August and September 2022.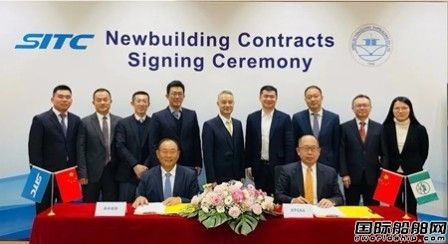 On November 30, in addition to 2 TEU 1800 container ships, Yangzijiang Shipping and Haifeng International also signed a new shipbuilding contract for 1 2700 TEU container ships and 4 2400 TEU container ships. Mr. Ren Letian, Chairman of Yangzijiang Shipping Group, Mr. Zhang Tao, Deputy General Manager of the Group, Mr. Yang Xianxiang, Vice Chairman and Chief Executive Officer of Haifeng International Board, Mr. Xue Mingyuan, Executive Director of Haifeng International Shipping Group, Mr. Xiao Senyuan, Vice President of Haifeng Shipping Group, witnessed the successful signing of new orders.
The five new ships cost $138 million, Will be used to expand its own container fleet. Among them ,2,700 TEU container ships cost $28 million, will be delivered by october 2021. Four TEU 2400 container ships each cost $27.5 million, will be delivered in february, april, may, june 2022.
Haifeng International, one of Asia's leading shipping logistics companies, offers integrated transport and logistics solutions, and undertakes the construction of two alternative ships under the alternative contract and five additional ships under the additional shipbuilding contract, which will be able to expand its own container fleet to meet the continued growth of market demand for the company's services.
It is understood that in recent years Haifeng International has many times in the Yangzi River shipping industry signed a new ship. With the exception of 6 in August With six 1800 TEU container ships, Haifeng International ordered six 2400 TEU and three 2700 TEU container ships from 2017 to 2018 in Yangzijiang Shipping Group.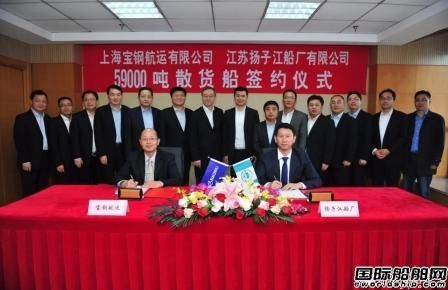 In addition, two bulk carriers were ordered by Shanghai Baosteel Shipping Co., Ltd., and Jiangsu Yangzijiang Shipping Co., Ltd., a subsidiary of Yangzijiang Shipping Group, signed a contract with Baosteel Shipping on November 13.
The new ship was jointly developed by Yangzijiang Shipyard and Shanghai Ship Research and Design Institute, The total length of the ship is about 199.95 meters, the length between the two columns is 197.00 meters, the width of the type is 35.80 meters, the depth of the type is 18.00 meters, the design draft is 11.20 meters, the structure draft is 11.70 meters, and the cargo hold capacity is about 81300 cubic meters, China Classification Society, The price is 304.5 million yuan. The first ship is expected to be delivered in May 2022.
Including the latest nine new ship orders, Yangzijiang Shipping Group has received 43 orders this year, with a total value of $1.26 billion (excluding alternative orders). That figure already exceeds the total of $830 million received last year. On November 5, Yangzijiang Shipbuilding Group also won 5% of Japanese shipowners 5 orders for 3500 TEU feeder container ships.
"Despite the recent low market visibility caused by the global epidemic, shipowners have taken a long-term view and planned the fleet accordingly ," said Ren Letian, executive chairman and chief executive officer of Yangzijiang Shipping Group. We thank our customers for their trust in us and facilitate these new orders. We continue to note an increase in the demand for small and medium container ships as the shipping industry adapts to emerging trends and seeks to meet higher demand for intraregional shipping and more flexible services ."
"A recently established Regional Comprehensive Economic Partnership Agreement (RCEP) is expected to promote maritime trade among member countries of the Asia-Pacific region through measures such as facilitation of cross-border logistics and tariff reduction. RCEP stressed the importance of trade in economic recovery during and after the epidemic, which would require shipping and shipbuilding to prepare for the growing need for more efficient and cleaner ships. With these favorable market forces, we hope to deliver more good news to the market as our ongoing negotiations on potential orders bear fruit ."