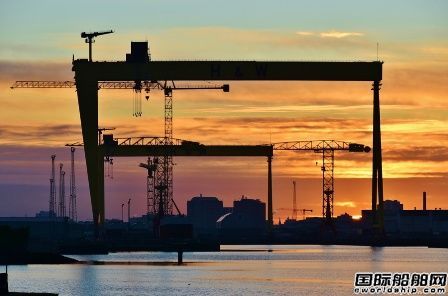 The lack of money among shipowners, the uncertain future and the novel Coronavirus epidemic have compounded the already depressed new shipbuilding market, with fewer new ship orders and declining "stock" orders. The next recovery of the global shipbuilding industry may be a decade away.
Brokers Banchero Costa, head of research at Ralph Leszczynski recently in an interview with the media will predict the shipbuilding industry in the next few years will remain depressed, May 8 to 10 years later there will be a recovery, because "in 2007 and 2010, boom of the ship under construction need to be replaced, because most of the service life of the ship is about 20 to 25 years".
According to Leszczynski, one reason for the slump in the market for new ships is that shipowners lack the funds to book ships."Most shipping markets have had a relatively sluggish decade in terms of earnings, from 2009 to 2019, so most shipowners don't have enough cash," he says.External financing is also short because the defaults suffered after 2008 have left Banks largely shunning shipping."
In addition to money, Leszczynski cited uncertainty about the future.He noted that the industry's demand for oil RIGS and supply ships has been hit by low energy prices and little appetite for new exploration investments.Leszczynski said buying oil ships was a "big bet" when demand was uncertain and that while oil consumption had increased over the past two decades, efforts to mitigate climate change had accelerated expectations that demand would decline.
Another uncertainty faced by shipowners is environmental regulation.Stephen Gordon, managing director of Clarksons Research, said the International Maritime Organisation (IMO) had set ambitious and important emission reduction targets, but it was unclear what specific policies and regulations would be introduced and what emission technologies would be used.Ships are long-term investments, with buyers taking on the risk of them becoming obsolete.
The IMO sulphur limit went into effect earlier this year, and the global shipping industry is now undergoing one of the biggest changes in a generation.Owners will have to pay more for cleaner fuels, install pollutant-reducing desulfurization devices and even order new vessels.The outbreak has added to the uncertainty, disrupting supply chains and impeding trade flows.
Gordon said that "the epidemic has become the most pressing issue" and that while the challenges posed by blockade and restrictions were easing, the "economic uncertainty, trade disruptions and volatility" caused by the outbreak continued to lead to a decline in new ship orders.
Rahul Kapoor, global head of analysis and research for maritime and traded goods at IHS Markit, a market research firm, said: "The outbreak is further hitting demand that is almost non-existent.""With the impact of the epidemic on economic activity and supply chains, booking new ships is now the lowest priority for owners.They are focusing on maintaining margins."In addition, the epidemic has delayed the normal delivery of ships.
On the other hand, lower orders for new ships and slower fleet growth could instead help raise shipping rates.Major shipping companies are likely to maintain capacity management until 2021 to minimize the impact of a slowdown in global trade, Kapoor said.Shipping companies' capacity controls have translated into higher rates for ocean-going container ships this year, with benchmark rates for trans-Pacific container lines rising sharply to record levels since the end of May, according to The International Shipping Network.Bulk carrier rates have also rebounded from four-year lows.
Global orders for new ships in the first 10 months of this year were 11.56m CGT, according to Clarkson, down by almost half from 22.4m CGT in the same period last year.Global hand orders fell to 67.34m CGT at the end of October, the lowest level since December 2003 (65.93m CGT).At 7.08 per cent of the existing fleet, global hand orders are almost at their lowest level in the past 30 years.