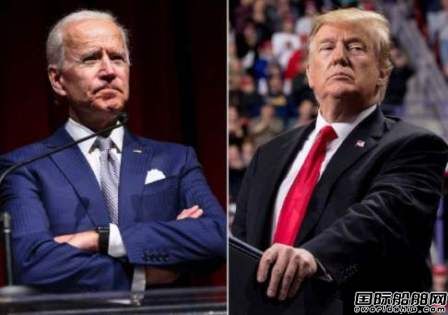 Moral, political, and personal considerations aside, VesselsValue's nearly four years of trade data provide an insight into how Trump's policies have affected every sector of the shipping industry during his presidency, and how Biden's victory could affect shipping markets.We will discuss it from the following aspects:
• U.S. crude oil exports
• Iran sanctions
• Blacklist of ships
• Sino-us dry bulk trade
• Container ships carry cargo in nautical miles
Trump's support may win the tanker market
Mr Trump's support for US crude production, sanctions on Iran and the temporary blacklisting of some large tanker fleets during his presidency have been good news for the tanker market, at least in the short term.
U.S. Crude oil Exports
There is no denying that U.S. crude oil production and exports are favored by Trump.That is good for the tanker market, since Asia is the biggest importer of US crude.Asia is further away from the US than the Middle East.As Asia imports more crude from the U.S., cargo must move farther, increasing demand for nautical miles, increasing the utilization of capacity supplies and boosting the vitality of the tanker market.
By contrast, Biden's campaign policy proposals could hurt U.S. oil exports.Although he is not expected to ban fracking outright, his policy of supporting low-carbon energy alternatives could slow the upward trend in U.S. crude oil exports.As well as investing in clean energy, he is also expected to restrict us shale oil production, thereby limiting exports.These policies could have a negative impact on tanker rents, especially the long-haul trade between the U.S. and Asia, which has been an important market driver recently.If us exports slow in the future, Asia will have to rely more on imports of crude oil from the Gulf of the Middle East, with shorter voyages, leading to lower sea volumes and associated rents.
Since the lifting of the BAN on US crude oil exports in December 2015 (under President Obama), crude oil exports have grown at an even faster rate since Mr Trump took office in 2017.The chart below shows total U.S. crude oil exports per month, estimated in nautical miles.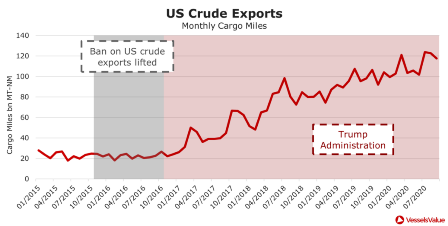 During Trump's first year in office, the number of crude oil tanker nautical miles from the United States increased by a staggering 159 percent, reaching 62.5 billion metric tons -- nautical miles -- by the end of 2017.Since then it has almost doubled to a peak of 123.7 billion nautical miles in July.
Asia accounts for the largest share of U.S. crude oil exports outside of U.S. domestic trade, and the following chart shows the major U.S. export routes since October 2019.Over the past year, South Korea became the largest importer of U.S. crude oil, with imports of 17,301,637 tons, or 6.2% of total exports.China followed with imports of 16,151,619 tons.

The figure below shows the monthly change in nautical miles on the two main routes.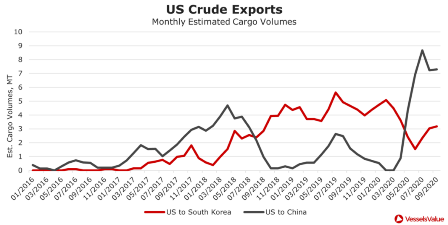 Iran sanctions
During his presidency, Mr Trump advocated tough sanctions and tariffs that had both a positive and a negative impact on the tanker market.Among them, he has imposed sanctions on Venezuela and Iran that, to some extent, benefit U.S. crude oil exports.The chart below shows a sharp drop in shipments from Iran immediately after Trump imposed tough sanctions.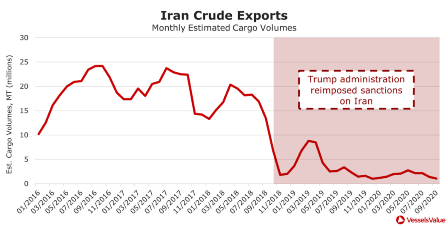 Trump announced additional punitive measures against Iranian oil buyers in 2018, causing Iranian oil exports to plummet almost overnight, dropping by 90% from 18,315,123 tons in July 2018 to 1,801,654 tons in November 2018.The U.S. move has strangled oil deals in key oil-producing countries, giving the U.S. a bigger share of its growing export business.
If Mr. Biden wins, he is expected to reassess and ease those sanctions in a way that could shift some oil supplies back to countries previously sanctioned, notably Iran.Iran is much closer to Asia than the United States, a geographic shift that could hurt the tanker market by reducing sailing distances and cargo miles.
Blacklist of ships
In 2019, Trump blacklisted a number of ships and companies accused of trading with sanctioned countries.The result has been fewer ships available in the market, pushing up tanker rents in the short term.As you can see from the chart below, tanker earnings soared in October 2019.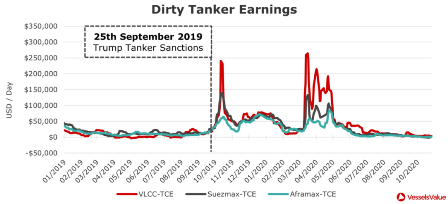 Although short-lived, the tanker market has benefited from supply constraints and the resulting volatility, resulting in substantial gains for tanker owners.Oil tanker owners are likely to prefer Mr Trump, whose volatility tends to favour tankers because of political turmoil.
The spectre of a trade war could push the dry bulk market to Biden
The trade war has hurt U.S. dry bulk exports.The January 2020 trade deal helped turn that around, but a Trump victory is likely to lead to a continuing trade war that could hurt the bulk carrier market.
The dry bulk trade from the United States to China, which includes exports of major grains such as soybeans and corn, has shown significant seasonal trends over the past five years.As the new sales year begins in September, freight volumes tend to peak between August and November.However, due to the escalation of trade disputes between China and the United States on routes in 2018, the volume of Chinese imports has dropped significantly and fluctuated.The chart below shows the U.S. to China bulk cargo trade, highlighting the nautical miles of Panamax, Ultraporter and Ultramax bulk carriers.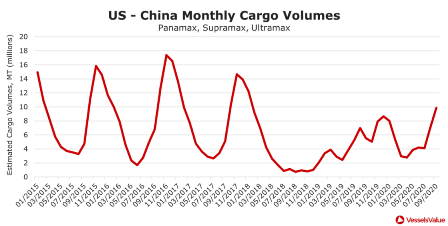 U.S. dry bulk trade to China has been less stable in 2018 than in previous years, thanks to Trump's tariffs.Although China's imports have been rising gradually this year before the coVID-19 outbreak, the seasonal peak has not yet reached the high levels seen in previous years.
With the outbreak, imports began to decline in February and March;But since July, imports have risen as demand has recovered, rising 140% from 4,109,657 tons in July to 9,872,754 tons in September.This shows that the first phase of the trade agreement signed between the two countries in January 2020 is beginning to bear fruit, with China agreeing to increase imports from the US over the next two years, after reaching pre-epidemic levels this year.However, the risk of a trade-trade-like phenomenon increases if Trump is re-elected, so we would expect dry bulk ship owners to prefer Biden to win (though his stance on trade with China remains unclear).
The container ship market may be more inclined to vote for Biden
Trump's protectionist policies have had a negative impact on container trade from China to the US.In addition, Mr Biden's promise of a higher level of stimulus should increase consumer willingness to buy and the associated volume of container-ship trade.
Mr Trump's protectionist policies, particularly against China, are bad for the container ship market, as China's export trade to the US is the main driver of demand for container shipping.As can be seen from the table below, since the trade frictions between Trump and China intensified in 2018, the cargo sea volume between China and the US showed a downward trend. It was not until the summer of this year when the epidemic prevention blockade was lifted and the economy began to recover that the cargo sea volume began to rebound rapidly.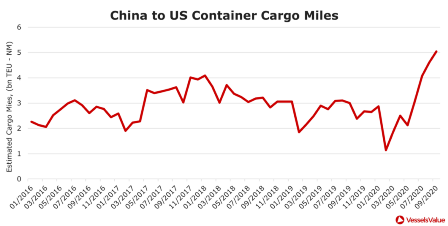 It was unclear at this stage whether Mr. Biden would soften on China, but his statement suggested he was more open to the benefits of international trade.
In addition, demand for container ships is driven by economic activity and associated consumer spending.Recent events have shown that Mr Trump's stimulus policies have been very loose, leading to record stock market gains and increased consumer spending.Now, however, Democrats are proposing far more stimulus than Republicans.More stimulus measures, in the wake of coVID-19, will lead to more consumer spending, benefiting the container market (provided owners avoid overordering new vessels and creating a glut of vessels).
conclusion
The tanker market is more pro-Trump, while the bulk carrier and container ship markets are more pro-Biden.
The outcome of the US election will undoubtedly have far-reaching implications for global shipping markets, and the industry is at a critical crossroads in geopolitical trade wars and the flow of goods.However, the impact varies from industry to industry.
The tanker market is expected to continue to benefit if Mr Trump is elected, as the data for the past four years show.His special support for US crude production and the blacklisting of certain tanker fleets contributed to both short - and long-term rental increases in the tanker market.Biden, meanwhile, is expected to focus more on investing in clean energy to reduce the supply of U.S. crude oil, which could reshape global tanker trade and drive down rents.
Both sectors may favor Biden as Trump's protectionist policies and the ongoing trade war between China and the United States have hurt the dry bulk and container ship markets.But at this stage Mr Biden's attitude to Relations with America is unclear.