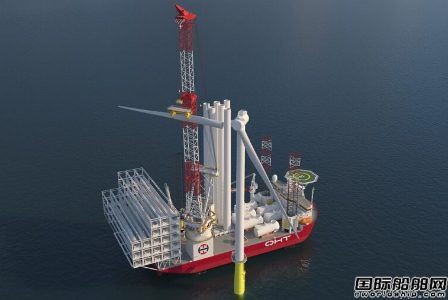 OHT clinched orders for China Merchants Heavy Industries' first new-generation wind power installation ship
Norway's Offshore Heavy Transport (OHT) formally clinched orders for China Merchants Heavy Industries' first new-generation wind power installation ship.
On October 3, OHT, through its wholly-owned subsidiary VIND Offshore Installation 1, signed a contract with China Merchants Heavy Industries to build the first new-generation wind turbine Installation ship, which is scheduled for delivery in the second quarter of 2023.
The contract is the first of two wind turbine installers VIND 1 and VIND 2 that OHT signed a binding agreement with China Merchants Heavy Industries in July.The agreement also includes an alternative order for two wind turbine installation ships.
OHT's wind turbine installation ships will use the GustoMSC NG-14000XL-G design, designed specifically for the installation of future next-generation offshore wind turbines and XL single piles, which will significantly reduce the environmental footprint.While the price of the new ship has not been announced, sources speculate that the latest wind turbine installation could cost more than $300 million.
The new ship is equipped with a telescopic crane with a maximum lifting capacity of 2,500 tons and a maximum lifting height of 165 meters. The jack-up installation ship can work in a maximum depth of 65 meters and will mainly serve the installation of larger size and capacity of offshore fans in the future.The new ship will use a battery hybrid solution, as well as a sophisticated electrical and control system that will reduce carbon dioxide emissions by 20 percent compared to similar ships.In addition, hydrogen fuel cells will be installed on two future ships as options.
Torgeir E. Ramstad, CEO of OHT, previously said that with the new orders from China Merchants Heavy industries, "OHT has firmly established itself as a leading, fully integrated offshore wind power transportation and installation (T&I) company.We are doing this in response to our customers' concerns about the lack of adequate capacity to install ships in the market, which is a problem in the booming offshore wind market.