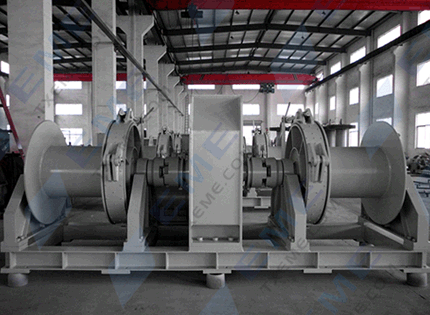 Main Components of Hydraulic Drum Anchor Winch
Column:
FAQ
Date:2020/9/30 11:17:47 Viewed:
Gearbox
We offer fully enclosed gearbox with gears. Selecting the right type of gearbox is crucial for improve working efficiency. Almost any type of gearbox is available for you to choose from, including spur gearbox, worm gearbox, bevel gearbox and planetary gearbox.
Motor brake
It is a brake fitted to the motor shaft, which is in almost all cases an electric motor.
Gear brake
It is a brake located between the motor and the gearbox. It is hydraulically operated when used on hydraulic driven winches.
Drum brake
It is an additional brake fitted on the drum. The drum brake can be hydraulically operated with failsafe design.
Clutch
A clutch can be fitted between the drive and the drum in order to disconnect the drum from the drive. There are two types of clutch to choose from, claw-type clutch and friction type clutch. In most cases, hydraulic operated claw clutch is used with hydraulic power winches since it is simple, robust, reliable and inexpensive.
Control
It can be central remote or locate control. The selection of the control equipment is determined by in most cases the motive power. However, a hybrid system is also possible.