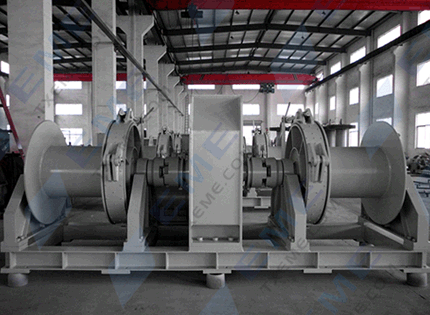 Difference between a ship winch and a towing winch
Column:
FAQ
Date:2020/8/15 9:53:17 Viewed:
The cable towing machine belongs to a kind of Marine winch. The cable towing machine belongs to a special towing operation machine, which is mainly used in tugboat, anchor supply ship, PSV and other working ships. The pulling force is very big, and the general pulling force is at least 45 tons, and can be up to 500 tons.
Marine winch points a lot of, tow to take a machine to belong to among them one kind!
Marine winch is divided into:
Mooring winch (with windlass matching), is mainly used when ships berth in ports, temporary berthing, tugboat towing, etc., the ship should have mooring winch, unless some tonnage is very small ship, people can stop!There's no mooring winch.
it includes the towing winch. The towing winch has a relatively small tension tonnage, generally around 10 tons, which is a special winch for towing operation. No matter how large the tension tonnage is, it belongs to towing winch.
it is specially used to pull the suspension, belongs to the ship equipment special winch.

A special winch for fastening cargo and belonging to the equipment of a ship.