On May 28, jiangnan shipbuilding, a subsidiary of China shipping corporation, officially named two 84,000 cubic meter VLGC vessels built by China national gas group and China fuzhong shipping, as "CHINAGAS LEGEND" and "CHINAGAS GLORY" respectively.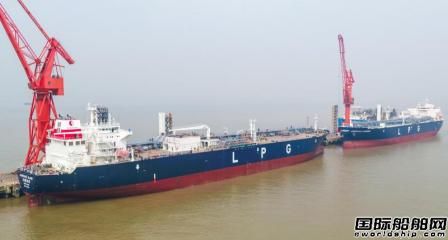 This series of ship is jiangnan shipbuilding independent design of the second generation of VLGC (Panda 84 p), total length of 230.0 meters, 36.6 meters wide, 22.2 meters deep, design draft 11.4 meters, the structure of the draft of 12.0 meters, the classification of bureau veritas (BV), hang a flag of Hong Kong, will meet the international maritime organization (IMO) Tier Ⅲ emissions requirements and new IGC Code standard.
Among them, the "CHINAGAS LEGEND" was named and signed for delivery.The CHINAGAS LEGEND will be put into service after the naming ceremony.Affected by the covid-19 epidemic, the shipyard in jiangnan only resumed work in the middle of march this year. The construction cycle of the ship was very tight, and the construction team sped up the delivery pace through reasonable planning.Finally, "CHINAGAS LEGEND" reached delivery status 8 days ahead of schedule, which was also the fifth ship to be delivered this year.
"CHINAGAS GLORY" is scheduled to set sail for sea trial on June 15. So far, it has completed mooring tests of generator, boiler and air survey. In the next stage, it will also carry out debugging of main engine communication and navigation.The CHINAGAS GLORY will be fully installed, tested and put into service by July 15.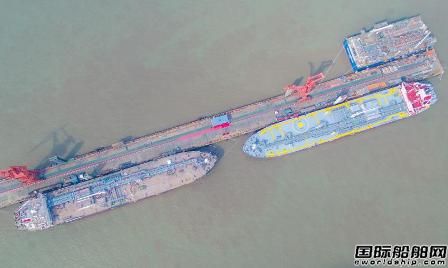 The CHINAGAS GLORY has made several breakthroughs
The naming of the two vessels is the first formal ceremony for jiangnan shipbuilding since the Spring Festival. It marks that jiangnan shipbuilding has fully released its production, achieved remarkable results in overcoming the impact of the epidemic, and achieved the target of the year's mega-node on time.
In ensuring implementation time more than half, duty more than half of the jiangnan shipbuilding within a day to realize two ship name, ship delivery, such as a ship, a ship trial a number of important nodes, is to overcome the early outbreak, after a full return of production, another production of breakthrough, in order to achieve the annual economic indicators of China shipping group, put forward the same and the delivery quantity can be offered to "double target" into the arm.