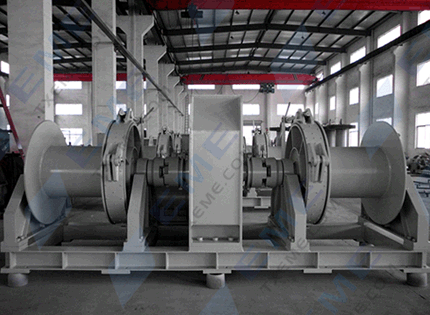 What is a Marine winch
Column:
FAQ
Date:2020/5/12 15:29:50 Viewed:
Marine winch is an important lifting and pulling equipment used on boat/ship, on the dock or shore, in the port, on offshore platforms etc. for anchoring, mooring, towing and weights lifting or pulling, and there is also subsea winch used for some submarine operations.
The main structures of marine windlass comprise drum, gypsy wheel, chain, cable, manual band brake, manual clutch, power system and control system etc.
In addition to drum, many winches have one or two small warping heads. Take marine drum winch for example, it can have one or two drums with or without warping head. Clients can customize by their needs. Speaking of the commonly used marine winches, they can be anchor winch, anchor and mooring winch, towing/tugger winch, mooring winch, combined windlass like electric single drum combined winch and electric double drum combined winch and so on.

The load capacity, rope capacity, rope diameter, rated speed and dimension of the winch vary according to different needs and conditions, they are in the different ranges and can be customized.