Mechanical instruction
一、Mechanical construction
Electric windlass is driven by electric motor, and consists of gear box/ gypsy/ band brake/ clutch/ main shaft/ base, etc.
1.Gear box
Windlass driven by a motor through gear box of the three stage gear drive, to output shaft, change its speed to output speed required for practical work. Since the work of the motor speed is high, you need to dip lubrication; gearbox has a good sealing performance, gearbox is equipped with the dipstick, vents and unloading port. Before using the new machines, injection of clean oil to the middle of dipstick in the place, generally adopts middle load industrial gear oil L-CKC220, L-CKC320 in GB 5903. Lubricating oil (mineral oil) viscosity and brand recommended for reducers under different environment temperatures as follows:
2.Gypsy Ass.
It is consisted of sliding bearings, gypsy etc. The gypsy is casting steel, and
mounted on the main shaft (Gear box output shaft) through sliding bearings, its force is transmitted by the clutch.
3.Manual band brake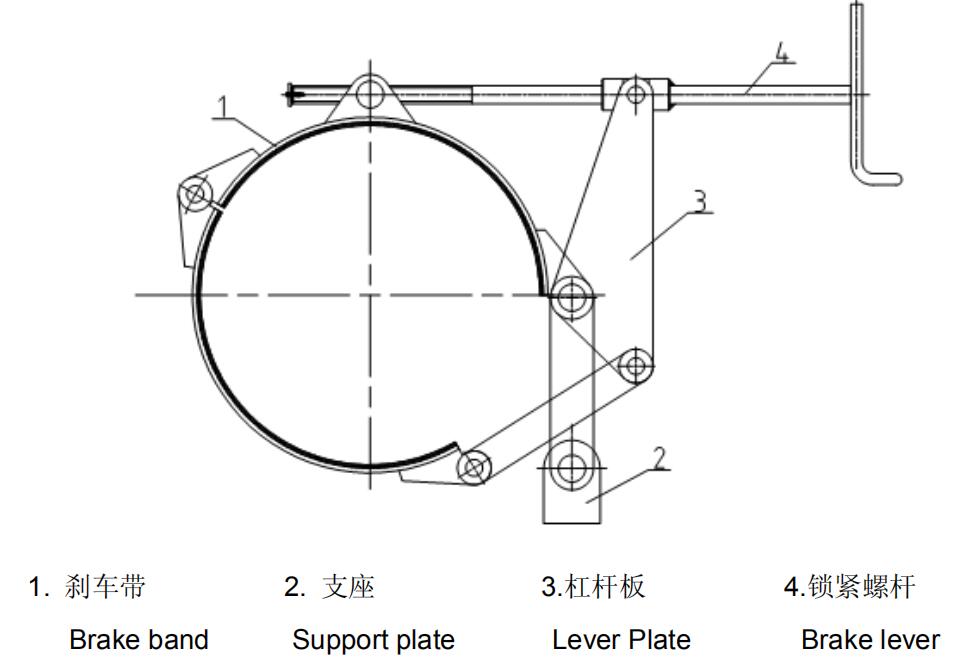 4.Manual clutch
5.Base
The machine base is a whole type of common base, for welding structure. When installing, the base will be welded to customer's base
二、Operating method
1、Preparation
Please check the following and be sure that all parts are in order before operation.
(1)Check whether the reducers, bearings are well lubricated or not.
(2)Check whether the bolts are loosening or not.
(3)Check whether is there any obstacle around the windlass.
(4)Checking the abrasion of brake band (ΔS≤2mm). Making sure there is no oil or grease on the surface of brake band and brake hub. And examining the reliability of brake.
2、Running of windlass:
(1)Now, close the clutch of the gypsy, open its manual brake.
(2)To realize pull in and pay out cable chain and high /low speed control, through master switch in control box to control motor.
(3)Idle
If the windlass will be idle for long time, the clutch should be disengaged and brake should be tightened.
三、Maintenance
1、The operator should know clearly the operation preparation and operation order.
2、All rotation parts should be coated with grease. Also please check the oil level in the gear box at intervals and ensure the gears can be lubricated nicely.
3、Each time after lubrication, the windlass should run at idle for a few seconds so that all parts can be lubricated well.
4、The surface should be clean. The exposed surface should be greased at regular intervals to prevent rusting.
5、Check the cable chain at regular intervals. Defected chain should be replaced immediately.
6、Check whether there is deformation or cracks on the structure and check the bolts loose or not. If there were any defects, get rid of it.
7、Cover it with casing when it is in idle condition.
8、Lubrication:ZG-3(GB491-87)Calcium grease.