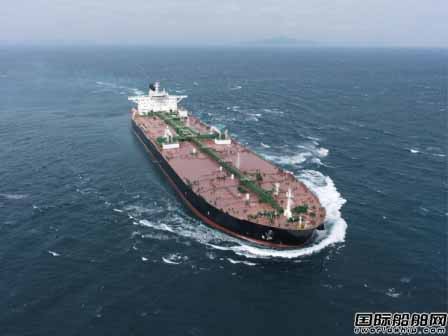 Daewoo Shipbuilding continued to open the year-end rush. After receiving orders from six super-large tankers ADNOC by the UAE last week, Daewoo Shipbuilding signed another 10 LNG power VLCC intention contracts. Its leading position in the field of VLCC construction has also been further consolidated.
On December 7, Daewoo Shipbuilding said it had signed an agreement (LOI) with a European shipowner on the construction intention of up to 300000 deadweight tons LNG dual fuel power VLCC, and the formal construction contract is expected to be signed in the first quarter of next year. the total price of these 10 ships will be $1.05 billion based on the current new shipbuilding price of about $105 million per LNG power VLCC.
Should the formal contract be finalized, it will become the first time Daewoo Shipbuilding has built LNG dual fuel power VLCC, basically realizing the full coverage of the main ship types in the field of gas power ships such as LNG power ships and LPG power ships. Prior to this, Daewoo Shipbuilding has successfully undertaken orders for LNG power LNG ships, LNG power container ships, LNG power shuttle tankers, and LPG power LPG ships.
Daewoo Shipbuilding People said :" The signing of this agreement is of great significance. Our technical capability in the field of LNG power ship is again highly recognized by the shipowner after the dual fuel power LNG ship. Look forward to this can also become the company in the future in the relevant market advantages of the cornerstone ."
The order also means that South Korea's three major shipping companies have received LNG power VLCC orders. Samsung Heavy Industries won the Bermuda shipowner in April Three dual fuel LNG power VLCC orders, with a total value of about 253.6 billion won ($208.6 million), are scheduled to be delivered by April 30,2022. Hyundai won six dual-fuel LNG power VLCC orders S1Capital by multinational private equity firms in July, each costing $105 million and expected to be delivered by 2022; there is widespread speculation that Shell may be the actual contractor.
It is worth mentioning that, Daewoo shipbuilding has recently gained a lot in the field of VLCC construction. 3 December, Daewoo Shipbuilding has just won 3rd from Abu Dhabi National Petroleum Corporation (ADNOC).(Agencies 3 VLCC construction contracts, The total value is 282 billion won (about $257 million). The construction contract provides for the option not to install a desulphurization unit (Scrubber) but to use low sulphur oil or to convert it into a LNG dual-fuel power vessel in the future, If it's finally identified as a LNG power ship, Will become the world's first ME-GI high-pressure dual-fuel marine engine and the use of high manganese steel fuel storage tank VLCC. of the
For a long time, Daewoo Shipbuilding has always been the construction delivery VLCC the world's first single shipbuilding enterprise. From the end of the Middle East war in 1975 to June 2008, 506 VLCC, constructed globally Of these ,102 were built by Daewoo, The proportion is more than 20. According to the latest data at the end of November, Among the 834 VLCC currently operating globally, There are 161 ships built by Daewoo, 19.3 per cent, According to the statistics, Daewoo Shipbuilding is still the first single shipbuilding enterprise in VLCC construction field.
According to statistics, from 2017 to 2019, Daewoo Shipbuilding received a total of 41 VLCC orders. Daewoo Shipbuilding has now taken on five VLCC., including the three orders, despite the severe impact of the new crown pneumonia epidemic this year Clarkson data shows that so far in the world a total of 71 VLCC handheld orders, Daewoo shipbuilding handheld orders a total of 11.