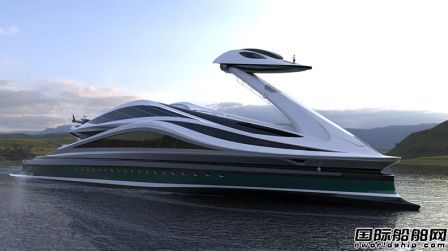 Ship design is crazy too!The giant Swan boat Goose-Head is actually a boat.
Italian design studio Lazzarini has unveiled a swan-shaped mega-yacht with an estimated price tag of $500 million.

The concept yacht is called Avanguardia, which means "pioneer" in Italian.As the ship's name suggests, the Avanguardia boasts enormous size, elegant design, luxurious amenities, advanced technology and surprising expansion features.
The Avanguardia is 137 meters long, 22 meters wide, has a draft of 6 meters and has five decks.Inspired by nature, the Italian designer Pierpaolo Olazzarini decided to base his design on the swan, which, in his opinion, is one of the most elegant animals.With smooth lines and subtle curves, the boat looks almost exactly like a real-life swan.
The concept of Avanguardia has been five years in the making.The ship's distinct selling point also comes from its separable "head."Inspired by the 1973 Japanese animation "Kacha The Reborn Man," the "Head" ACTS as a control tower to steer the 137-meter yacht. It can also be separated from the "neck" to become a 16-meter auxiliary boat.
In the original version of the Lazzarini design, the "head" was a detachable aircraft.PierpaoloLazzarini explained that the design meant that "we had to put a drone on top, and the landing was very complicated," so the designers eventually decided to replace the aircraft with a detachable boat.
While the Avanguardia is only a concept design at this stage, Lazzarini says that if a customer is willing to pay for the yacht, it will be built.